Taking the smart home concept to a whole new level
TORONTO, March 30, 2018 /PRNewswire/ -- AI Incorporated, Canada's pioneering robotics and artificial intelligence research company has released a design for an autonomous refuse robot. A new application for mobile robotics, the new AI enhanced robotics system introduces a device that can autonomously travel to the curbside and wait for the pickup truck at pre-scheduled times. Scheduling takes place with an APP and status can be checked in real time. In case the robot needs help with navigation or gets stuck, the user can control it through the APP.

With this new application in mobile robotics, the company plans to use its Simultaneous Localization and Mapping (SLAM) technology combined with deep learning to pioneer in a new generation of robots. The autonomous refuse receptacle robot is an application for the company's Versatile Self Localizing Autonomous Platforms (VSLAP). A new robot proprietary software called the Quantum Slam Operating System (Q-OS) helps companies mobilize any given machine. With this invention humans emptying trash cans will be a thing of the past. When it is time for pickup, the bins will simply leave their post to be emptied.
"Robots are the perfect solution for eliminating those tasks which humans do not wish to conduct," said Ali Afrouzi, CEO of AI Incorporated and bObsweep Inc. "With our cost-efficient Q-OS SLAM solution, it is now economically viable to automate trash cans that autonomously navigate to the curbside when the truck arrives!"
These robotic devices contain a comprehensive navigation system using a combination of SLAM, deep reinforcement learning, and computer vision. These devices will be able to map their environment, travel autonomously, communicate with other devices, and monitor their internal contents with an extensive array of sensors.
To read more about this robot, please visit the AI Incorporated website at www.aiincorporated.com.
About AI Incorporated
AI Incorporated is a tech company that specializes in autonomous robotic devices using a quantum-inspired method to solve the SLAM problem. AI Incorporated offers Q-OS which is a SLAM enabled Operating System for companies in need of smart mobile platforms. It also provides Versatile Self Localizing Autonomous Platform devices to facilitate autonomy in devices for companies that need it.
Featured Product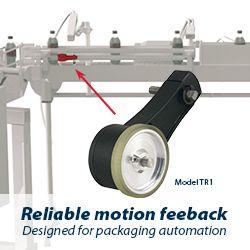 EPC is excited to announce our NEW online 3D Configurator. This new tool makes it even easier to configure EPC's products exactly how you need them for your application. The 3D Configurator interface is intuitive and works in any web browser for both desktop and mobile. It'll only take you a moment to learn your way around the program. Careful, though: it's so fun to play with, you may spend a whole afternoon on it!