Study of new powered soft exo-suit for stroke rehabilitation is intended to provide clinical data for upcoming FDA submission
MARLBOROUGH, Mass. and YOKNEAM ILIT, Israel, April 3, 2018 /PRNewswire-USNewswire/ -- ReWalk Robotics Ltd. (Nasdaq: RWLK) ("ReWalk" or the "Company"), a leading manufacturer of robotic exoskeletons, announced today the official launch of its clinical study of the ReStore soft exo-suit system (ReStore) for the rehabilitation of individuals with lower limb disability due to stroke. The first clinical study participant began using a ReStore last week at the Spaulding Rehabilitation Hospital in Boston, Massachusetts where the study is being led by a team of researchers from the Boston University College of Health and Rehabilitation Sciences: Sargent College. The study seeks to enroll 40 participants at five of the top rehabilitation hospitals in the U.S.

"Launching the clinical study is a crucial step forward in the effort to offer the ReStore as a commercial product for the rehabilitation of stroke survivors worldwide," said ReWalk CEO Larry Jasinski. "We are thrilled to continue our work with Spaulding—a renowned rehabilitation facility—and help patients access this cutting edge technology."
This first of its kind device, which was unveiled in 2017, is the second product line from ReWalk and represents the Company's next step in its efforts to develop new technologies designed to serve patients with various forms of lower limb disabilities.
The ReStore is designed to be a versatile, cost-effective gait therapy solution intended to allow therapists to deliver treatment with real time analytics and adjustability. It utilizes key features from structural exoskeleton designs without the size, structure and expense of current exoskeletons.
"The ReWalk ReStore is an innovative device with potential to alter how we treat gait impairments after stroke," said Lou Awad, PT, DPT, PhD, Assistant Professor, College of Health and Rehabilitation Sciences at Boston University, and Research Faculty Member at Spaulding's Stroke Research & Recovery Institute, as well as lead investigator for this study site. "We are excited to work with industry-leader ReWalk Robotics to kick off the first clinical trial of this next-generation rehabilitation technology."
How It Works: The ReStore transmits power to key joints of the legs with cable technologies, powered with software and mechanics that are similar to the technologies used in the ReWalk exoskeleton system for individuals with spinal cord injury. The cables are connected to fabric-based designs that attach to the legs and foot, thus lending the name "soft suit."
Anticipated delivery of a commercial ReStore soft suit is targeted for the first half of 2019. ReWalk plans to commercialize use of the ReStore system in Europe and the United States subject to receiving CE and FDA clearance, respectively, to market the device. The Company plans to apply for CE and FDA clearances once clinical and laboratory testing are completed.
For more information on the ReStore soft suit exoskeleton, please visit: www.rewalk.com.
About ReWalk Robotics Ltd.
ReWalk Robotics Ltd. develops, manufactures and markets wearable robotic exoskeletons for individuals with spinal cord injury. Our mission is to fundamentally change the quality of life for individuals with lower limb disability through the creation and development of market leading robotic technologies. Founded in 2001, ReWalk has headquarters in the U.S., Israel and Germany.
ReWalk® is a registered trademark of ReWalk Robotics Ltd. in Israel.
Featured Product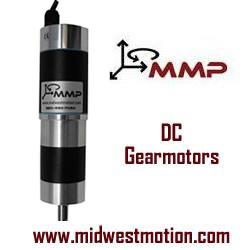 Midwest Motion Products, Inc. (MMP), is a well-established, healthy, & growing Family Owned Business, founded in 2001. MMP specializes in cost-effective standard DC Gearmotors, Motors, Controls, and ancillary equipment. Known world-wide for our "Lightning Fast" delivery capabilities, you can have a Standard Planetary or Right Angled DC Gearmotor BUILT and SHIPPED, often on the very same day you call. Offering Brushed and Brushless designs, with winding voltages ranging from 12 VDC to 120 VDC, we can deliver your "Robust & Reliable" samples within HOURS, instead of weeks, or even months.