Partnership will accelerate the deployment of Simbe's autonomous shelf auditing solution to retailers around the world
SAN FRANCISCO, April 11, 2018 /PRNewswire/ -- SoftBank Robotics America (SBRA), the North American arm of SoftBank Robotics Group (SBR), and Simbe Robotics today announced a global partnership to tackle the challenges retailers face in handling inventory dynamics in their stores. Simbe Robotics, creator of Tally™, the world's first autonomous shelf auditing and analytics solution, will leverage SBR's international reach and operational efficiencies to scale its business globally. To address store operations and merchandising challenges in the $23T retail market (source), SBR and Simbe will expand deployments of Tally in Japan, North America and Europe in the near future and will commercialize more broadly over the coming years.

With Tally, retailers benefit from unparalleled visibility and insight into the state of store merchandise including:
Timely alerts for out-of-stock, low stock, and misplaced items
Audited product price tags and promotional execution
Autonomous inventory audits, allowing store associates to better serve customers
Continuous in-store performance insights for brand and retail service partners
Having deployed more than 20,000 robots globally, SoftBank Robotics has strong infrastructure in place to support robotic activations worldwide, including Tally.
"Partnering with industry leader SoftBank Robotics gives us access to robotics deployment expertise and networks that will accelerate our global expansion," said Brad Bogolea, CEO of Simbe. "SBR's scale and scope of deployments is unmatched in the robotics industry, and we look forward to building a mutually beneficial relationship."
Since its unveiling in November 2015, Tally has been deployed by eight leading international retailers and has:
Safely navigated 4,500+ kilometers in-store alongside customers and employees
Captured 32M+ shelf photos, analyzing over 150M+ products and shelf tags
Completed over 7,500 hours of fully autonomous operation
"What the Simbe team has accomplished is nothing short of remarkable," said Steve Carlin, Chief Strategy Officer for SoftBank Robotics. "Their focus on delivering value to their clients through executional excellence is what makes them a leader in the retail operation and robotics space. We are thrilled to be able to help them broaden their reach in the global marketplace."
In the near future, the two companies will explore the ability to connect their robotic systems, Tally and Pepper, to further positively affect the retail experience by helping customers quickly and easily find specific products.
About Simbe Robotics
Simbe Robotics is the global leader in automation solutions that give retailers unprecedented visibility and insight into the state of their store environments, while improving inventory and operational challenges. Simbe is a privately held, venture-backed company headquartered in San Francisco, CA and works with major worldwide retailers and brands across the US, Europe and Asia. For more information, visit www.simberobotics.com or follow the company at @simberobotics.
About Tally™
Tally works in concert with retail store associates by empowering them with timely information to ensure products are always stocked, in the right place and correctly priced. Using a suite of sensors, the robot operates safely during normal store hours alongside shoppers and employees and doesn't require any infrastructure changes to the store. Tally's design is intuitive, friendly, and fits naturally into the retail environment. The robot scans entire stores up to three times per day and autonomously returns to its dock allowing for continuous operation. Combined with Simbe's cloud-powered software platform, powered by computer vision and machine learning, retailers have unprecedented information and insight into the state of their stores. This information can be used to streamline store performance, maximize customer satisfaction, increase sales, and optimize operational expenditures.
About SoftBank Robotics America
Headquartered in San Francisco, California, SoftBank Robotics America (SBRA) is driving technology forward by becoming a leader in humanoid robotics. SoftBank Robotics designs and develops everyday robots that work with people to make their lives easier, safer, more connected, and more extraordinary. Our robots, including Pepper and NAO, are used in more than 70 countries worldwide and offer innovative use cases relevant for the fields of retail, financial services, healthcare, travel, and hospitality. Formerly Aldebaran Robotics, SBRA's sister offices remain in Europe, Japan and China under the new SoftBank Robotics Group. To learn more about SoftBank Robotics America go to
www.softbankrobotics.com/us
Featured Product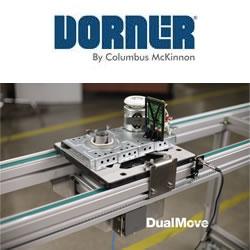 Dorner's 2200 Series Precision Move Pallet Systems are ideal for assembly automation. With features such as an innovative timing belt conveyor design and industry best pallet transfers, they get your product to the exact location, at the exact time and in the exact position it needs to be. They are now available with new options such as heavy load corner modules with 150 lb. capacity and 180 degree tight transfer corners for compact loops.