Leader of GEs Global Robotics Initiatives Will Emphasize Transformational Innovation at Event for Robotics and Intelligent Systems Technical Professionals
CLEVELAND & BOSTON--(BUSINESS WIRE)--Business-to-Business publisher WTWH Media, LLC announced John Lizzi, Executive Leader, Robotics at GE, to deliver a keynote address at the inaugural Robotics Summit & Showcase. The Robotics Summit, taking place at the Westin Boston Waterfront in Boston, MA, on May 23-24, 2018, is an international educational forum dedicated to addressing the technical issues involved with the design, development, manufacture and delivery of commercial class robotics and intelligent systems products and services.

According to Dan Kara, conference chairman and Vice President of Robotics and Intelligent Systems at WTWH Media, "GE is recognized as one of most innovative companies in the world. Given his role driving global robotics initiatives at GE, John Lizzi is perfectly positioned to reveal to Robotics Summit attendees how innovative robotics and intelligent systems technologies are being applied in the real world to transform businesses and industries, as well as the world at large."
John Lizzi said, "The robotics and intelligent systems sector is undergoing tremendous expansion at this time, disrupting and invigorating businesses and industries of all types in the process. It is business development professionals, along with robotics designers, engineers, and production specialists that are responsible for the innovations driving this growth. They are also the target audience of the Robotics Summit & Showcase. I look forward to attending the Robotics Summit and engaging with those engineering and business professionals who are developing the next generation of commercial class robotics and intelligent systems products and services."
For additional details and registration information, visit http://www.roboticssummit.com. Robotics Summit tracks include: Technologies, Tools and Platforms; Design and Development; Manufacturability; and Investment and Opportunity.
About WTWH Media, LLC
WTWH Media LLC is an integrated b2b media company serving the design engineering, life sciences, robotics, electronics and renewable energy markets with more than 40 web sites, live & digital events, custom digital services and five print publications More information at marketing.wtwhmedia.com.
Featured Product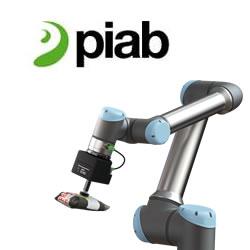 Piab's Kenos KCS gripper enables a collaborative robot to handle just about anything at any time. Combining Piab's proprietary air-driven COAX vacuum technology with an easily replaceable technical foam that molds itself around any surface or shape, the gripper can be used to safely grip, lift and handle any object. Standard interface (ISO) adapters enable the whole unit to be attached to any cobot type on the market with a body made in a lightweight 3D printed material. Approved by Universal Robots as a UR+ end effector.