At NPE2018 in Orlando May 7-11, the leader of collaborative robots will show how this class of robots – now the fastest growing segment of industrial automation – effortlessly and inexpensively automate tasks in the plastics industry, a rapidly expanding market for the "cobots"
Ann Arbor, MI, April 20, 2018: New trends in composite part fabrication, blow molding and high mix/low volume production are boosting demand for advanced manufacturing methods with collaborative robots being front and center. A new exhibitor at NPE this year is Universal Robots (UR), the company that pioneered the cobot and continues to be a market leader of the user-friendly robot arms that can work right alongside employees.

On display at NPE2018 in the UR booth S27189 at the Orange County Convention Center in Orlando, FL, will be the new Kanga Poucher from RND Automation & Engineering. Kanga is a vertical form/fill/seal pouching system that forms four-sided pouches for the medical device, pharmaceutical, and durable goods industries. The system integrates with a UR cobot loading products into the pouches before the fourth, "top" seal is made after the product is indexed through the sealing gasket. "Collaborative robots from Universal Robots reduce or eliminate the need for guarding which means a significantly reduced footprint," says Sean Dotson, President and CEO, RND Automation & Engineering. "The fully customizable robots fill our customers unique packaging needs. They also stop safely upon operator contact and can be moved with minimal force."
Also featured at Universal Robots NPE booth is the Bulk Box Loader from Dyco, another system utilizing the small footprint and safety benefits of UR cobots. "We are getting a lot of requests from our customers to integrate Universal Robots throughout the blow molding process. End of line packaging is just one example of their numerous applications" says Mark Lovelace, Sales Manager with Dyco that also offers a tray loading/palletizing system with UR cobots. "We selected UR for their robustness and design for use in industrial applications vs. other collaborative robots."
The integrated safety features of the UR cobots enables Dyco to offer continuous operation as the box loader cell includes two stations; while one box is being exchanged by an operator, the other box is being loaded by the robots. The system, shown loading plastic bottles at NPE, is designed for easy set-up on a self-contained plate that can be redeployed between multiple blow molding production lines running different bottle and box sizes. The bulk box loader is a fully automated system controlled from the UR interface and a few push buttons.
Area Sales Manager for Universal Robots, Brian Dillman, looks forward to introducing the UR robots to the NPE attendees. "Its great to see the industry now demanding UR robots for versatile application needs," he says. "Our product is uniquely positioned to address the pain points of the plastics manufacturers such as tightening labor markets, rapidly changing production lines, and the need to constantly lower overhead costs."
UR robots will also be exhibited in the following NPE booths:
Cold Jet - Booth W483
Cold Jet is the global leader that specializes in innovative dry ice cleaning solutions that improve manufacturing processes. At NPE, the company will be demonstrating a better way to clean molded parts prior to painting. The Cold Jet Combi 120H system is a waterless system that incorporates JIT dry ice production and an integrated blasting system. Cold Jet systems safely and gently removes a variety of contaminants from the molded parts using dry ice, eliminating the need for aqueous and solvent based cleaning methods and the associated large parts drying ovens. The system incorporates a UR10 collaborative robot cleaning automotive mirrors.
Proco Machinery Inc. - Booth W983
A leading manufacturer of automation systems for the blow molding industry, Proco will showcase the new collaborative robotic Half-Cube Palletizer system and the Robo-Packer. The Half-Cube Palletizer delivers a major cost reduction versus conventional automation as the system automatically palletizes blow molded containers with minimal operator involvement - only manual operations occur when an operator places the trays in the magazine. They system quickly adapts to a variety of packaging configurations i.e. all necks up or all necks down. The palletizer is an integrated module supplied with the UR robot arm, infeed conveyor, pallet lift magazine and Slip sheet/Tray pick on a common sub-frame fitted with leveling pads and castor wheels. The Robo-Packer is a breakthrough collaborative robotic automation system that that works interactively with co-workers, requires no special guarding, and needs minimal training for teaching new tasks. The system is supplied with any of the three UR robot models depending on the application and comes at a cost that is 50% less than conventional automation solutions.
About Universal Robots
Universal Robots was co-founded in 2005 by the companys CTO, Esben Østergaard, who wanted to make robot technology accessible to all by developing small, user-friendly, reasonably priced, flexible industrial robots that are safe to work with. Since the first collaborative robot (cobot) was launched in 2008, the company has experienced considerable growth with the user-friendly cobot now sold worldwide. The company, which is a part of Teradyne Inc., is headquartered in Odense, Denmark, and has subsidiaries and regional offices in the United States, Germany, France, Spain, Italy, Czech Republic, Turkey, China, India, Singapore, Japan, South Korea, Taiwan and Mexico. In 2017, Universal Robots had revenue of USD 170 million. U.S. regional offices are located in Ann Arbor, MI, Long Island, NY, Irvine, CA and Dallas, TX. For more information, please visit www.universal-robots.com or read the blog at blog.universal-robots.com.
Featured Product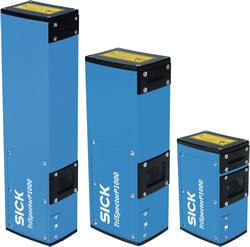 LiDAR (Light Detection and Ranging) is one of the most reliable methods for parts sensing in factory automation today. SICK has made this technology affordable and easy to use! Click on the video link below to learn about the TiM1xx LiDAR sensor and how it provides: - Area scanning LiDAR technology in a standard sensor package - 200-degree field of view and 3 meter sensing range allows for 169 square feet of area scanning - Compact size and light weight enables ease of deployment in "non-standard" type applications, like end-of-arm robotic tooling - Wide area scanning without having to mount a transmitter and receiver makes installation much easier - IO Link for easy configuration