40,000 Visitors to Converge on Detroit, April 25-28
DETROIT, April 23, 2018 /PRNewswire-USNewswire/ -- More than 15,000 students in grades K-12, from 25 states and 45 countries, are headed to Detroit this week with their custom-built robots, to compete in the annual FIRST Championship, the Detroit Metro Convention & Visitors Bureau (DMCVB) said today (Monday, April 23).

The annual FIRST Championship, presented by Qualcomm® Incorporated, is the culmination for student teams who participated in regional robotics competitions held around the world.
According to Larry Alexander, president and CEO of the DMCVB, 2018 marks the first of a three year commitment that FIRST made to hold the competition in Detroit.
"When you add friends, parents, mentors, coaches and sponsors, more than 40,000 visitors will be in Detroit over the next several days who will generate an estimated $30 million in direct spending to the Detroit area economy," he said.
The FIRST Championship was booked in 2015 by the Bureau and lengthy preparations to host the group have been underway for two years with the mission of creating an outstanding hospitality experience for the students, their families and other visitors.
Examples of the welcome that the group can expect include: customized messaging wrapped on the Detroit People Mover; over 100 volunteers at Detroit Metro Airport and on the streets of downtown Detroit, welcoming and providing way finding services; welcome desks at downtown hotels and welcome banners and information at all 50 regional hotels; digital welcome signage and banners at the airport; a restaurant and retail program where FIRST visitors receive discounts at over 40 downtown establishments; all front line hotel staff will be wearing welcome buttons; and welcome messages on downtown street pole banners and at all hotels.
FIRST events will take place April 25-28 at Cobo Center and Ford Field and are open to the public. For a complete schedule, go to firstchampionship.org/detroit-home.
The Detroit Metro Convention & Visitors Bureau is a private, not-for-profit organization whose mission is to market and sell the metropolitan Detroit area on a worldwide basis as a destination for leisure and business travel including conventions, trade shows, corporate meetings, tours and incentive travel to maximize additional visitors, visitor expenditures, state and local tax revenues, and job opportunities.
More than 700 businesses are represented in the DMCVB's membership. The DMCVB was founded in 1896 as the world's first convention and visitors bureau. visitdetroit.com
Featured Product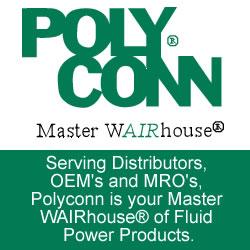 We can produce pneumatic hose and other pneumatic products to match your exact specifications. Our proficient engineering and quality management, coupled with outstanding customer service means Polyconn delivers high quality pneumatic components at competitive prices. Place your order or contact Polyconn for more information on our pneumatic hoses, pneumatic manifolds, Duratec® Pipe or any of our other top quality pneumatic products and components.