Mach 4 Debuts 40-Minute Best-in-Class Drone Flight Time
DENVER, April 30, 2018 /PRNewswire/ -- / AUVSI Xponential Expo, - AEE Aviation Technology, Inc., a global leader in electric aviation and camera technology, today announced the introduction of its Mach 4 ™, a multiple payload capable commercial UAV built to provide a best-in-class experience for professionals in law enforcement, search & rescue, inspection and surveying sectors, and more. AEE will be exhibiting Mach 4 at the premier AUVSI conference, Xponential May 1-May 3, 2018 at the Denver Convention Center AEE booth #1428. There will be an expected crowd of more than 8,500 industry leaders from both the defense and commercial sectors attending to gather the latest information on policy, business use cases and technology applications.

Measuring a little over two-feet in length, the AEE's Mach 4 is capable of traveling at a cruising speed of close to 30 miles per hour with a range of almost two miles and flight times up to 40 minutes in length. Its sophisticated Y-12 ground station hand controller is equipped with 1.4 gigahertz for flight control, offering a steady and sure control experience. The drone package comes with an aluminum siding carrying case that includes a professional charger and battery pack along with three antennas which are attached to the ground station, which supports a 5.8GHz video transmission and a 1.4 GHz digital radio system. Equipped with an YT35, standard 4K camera with a 1 / 2.3-megapixel sensor, the Mach 4 is designed to deliver crisp, clear images. The Mach 4 will also have available 10:1 zoom camera payload as well as an advanced optical thermal payload for search & rescue along with inspection missions
"We are pleased to offer to the Mach 4 to our commercial customers around the world because we expect the Mach 4 to raise the bar and redefine value in the commercial UAV industry," said AEE founder and CEO Andy Zheng. "One key advantage, for example, of the Mach 4 is its long flight time and we also believe its ground station controller is in a class by itself for similar products at this price point."
AEE's Mach 4 will be available to select resellers in June. Packages are expected to start in the $5,500 range, for the base configuration.
About AEE
AEE Aviation Technology Inc. has been a leader in developing and manufacturing professional, advanced and reliable recording equipment since 1999. This includes UAV drone systems, action cameras such as the MagicCam and police recording equipment. A pioneer in combining wireless audio and video transmission as well as image and processing and intelligent control technologies, AEE products are proudly distributed worldwide in over 55 countries and regions across major retail chain outlets. AEE Aviation Technology Inc. is based in Shenzhen, China with offices in Munich, Germany and Walnut, Calif. www.aeeusa.com
Featured Product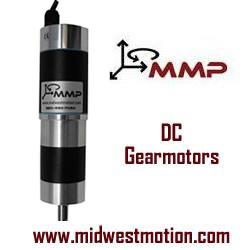 Midwest Motion Products, Inc. (MMP), is a well-established, healthy, & growing Family Owned Business, founded in 2001. MMP specializes in cost-effective standard DC Gearmotors, Motors, Controls, and ancillary equipment. Known world-wide for our "Lightning Fast" delivery capabilities, you can have a Standard Planetary or Right Angled DC Gearmotor BUILT and SHIPPED, often on the very same day you call. Offering Brushed and Brushless designs, with winding voltages ranging from 12 VDC to 120 VDC, we can deliver your "Robust & Reliable" samples within HOURS, instead of weeks, or even months.