Funds to develop industry changing robotics technology
HOUSTON, April 30, 2018 /PRNewswire/ -- Houston Mechatronics Inc. (HMI), today announced a Series B investment of $20 million from Transocean (RIG:NYSE) and existing investor Schlumberger (NYSE: SLB), which led HMI's Series A investment in 2015.

"We are extremely pleased to have Transocean and Schlumberger as investors in our company," said HMI President Matt Ondler. "They both bring to us tremendous strategic value."
Much of the new funding will be directed towards the commercialization of HMI's first product, Aquanaut, a subsea service robot that can perform complex tasks over low bandwidth networks, eliminating the need for surface ships. Beyond Aquanaut, HMI intends to continue developing novel subsea capability and other robotic technology for use in oil and gas applications with an objective to increase reliability, efficiency, capability, and safety.
"Our approach to Aquanaut and other products is uniquely inspired and driven by how we designed and operated robots during spaceflight. We believe these capabilities have direct applicability to the oil and gas industry, as well as other industries including defense," stated HMI CTO Nic Radford.
About Houston Mechatronics
Houston Mechatronics is a subsea service company with deep expertise in robotics and intelligent automation. The company is founded by former NASA roboticists responsible for designing and developing some of the most advanced robots in the world. The company was formed in 2014 and has been actively bringing their technologies to the Oil and Gas industry across a diverse portfolio of robotic projects including subsea robotics, advanced manufacturing, and pipe inspection.
Featured Product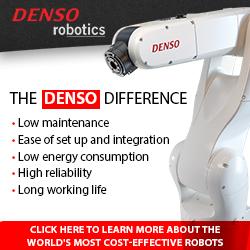 DENSO is the world's largest manufacturer - and user - of small assembly robots, employing over 17,000 of its robots in its own facilities. Over 77,000 additional DENSO robots are used by other companies worldwide. The compact, high-speed robots are used in traditional manufacturing sectors, as well as in advanced-technology applications in the medical, pharmaceutical and life sciences industries. Learn more about DENSO Robotics