1st Annual AI/Robotics Venture Fair brings over 100 investors to Pittsburgh
Innovation Works (IW), one of the the most active VC investors in robotics according to CB Insights, and Carnegie Mellon University (CMU) have teamed up to host the 1st Annual AI/Robotics Venture Fair. The Fair which has already attracted over 100 investors will take place in Pittsburgh on Wednesday, May 23 from 9am-6pm.

Pittsburgh has been identified as one of only a handful of locations leading the country in developing cutting-edge robotics and AI technology. Currently, more than 70 robotics and AI companies reside in Southwestern PA.
The Venture Fair is a one-day event to showcase 20 of Pittsburghs most exciting artificial intelligence (AI) and robotics startups to investors from around the world. The full list of participating startups can be found here.
Matt Bressler, Principal at TDF Ventures commented "Pittsburgh has the right combination of strong research institutions, a growing tech ecosystem, and entrepreneurial support to create great startups - Innovation Works as been the perfect guide to finding and meeting the high quality startups in town that are most relevant to TDF Ventures."
Rich Lunak, CEO of Innovation Works added "In order to help regional companies garner additional financial resources, IW has worked hard to catalyze local investor activity and forge relationships with investors across the U.S. and worldwide. By developing these relationships and fostering a strong pipeline of investment-ready companies, IW has become a key resource to our regions entrepreneurial economy."
About Innovation Works
Innovation Works (IW) invests capital, business expertise and other resources into high-potential tech companies with the greatest likelihood for economic impact in the Pittsburgh region. IW is the single most active seed-stage investor in the region and one of the most active in the country. As the Ben Franklin Technology Partner of Southwestern PA, IW is an initiative of the PA Department of Community and Economic Development and is partially funded by the Ben Franklin Technology Development Authority
Featured Product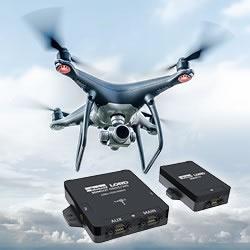 The C-series high performing inertial sensor package provides an OEM form-factor that is optimized for size and weight in Off Highway, Unmanned Ground Vehicles/Mobile Robots and Unmanned Aerial Systems. It's compact and low-profile anodized aluminum housing can be connected directly to a printed circuit board using a UART header or a Samtec FFSD ribbon cable and 2-56 fasteners.