Geek+ will be launching the P800 picking robot and the M100 moving robot equipped with cutting-edge advanced SLAM laser navigation technology
Geek+ Robotics, a leading manufacturer and solution provider of logistics automation in China announced it has received CE Mark Approval for Warehouse Robots System allowing Geek+ to expand their market in Europe.

"We are pleased to accomplish this important mandatory milestone", said CEO Yong Zheng. "It fully demonstrates the superior and reliable performance of Geek+ Robotics, both production control, quality assurance and risk control have been compliance with applicable EU standard. Having access to European Market means Geek+ has formalized the highest level of warehouse robots manufacturing in China."
Earlier in 2018, Geek+ has announced that they officially started global expansion by setting up an office in Hong Kong. According to their catalogue shown in exhibitions, Geek+ HK is in the process of launching two main robots called P800 and M100.
Except completing "Goods-to-Person" system, P800 Picking Robot is a symbol of Geek+s sophisticated industrial design. By broadening the robots adaptability to temperature threshold, P800 can maintain stable operation from -30℃ to 50℃ to adjust well to extreme temperature conditions.
M100 is the other featured moving system of Geek+ Robotics. It leverages advanced SLAM laser navigation method to identify factorys environment and schedule the route independently. With this technology, QR code would no longer be required and the robots are able to avoid and bypass the obstacle automatically in a flexible and smooth way.
LiT Fung, General Manager of Geek+ HK continued, " We look forward to delivering our integrated solutions to worldwide to help customers increase productivity and reduce labor cost in the near future. Since weve kept establishing international distribution network, the CE Mark is clearly a valuable asset for our company.
About Geek+ Robotics
Led by Artificial Intelligence ("AI") and robotic technologies, Geek+ provides one-stop robotic solutions to enhance efficiency for users in the logistics field and warehouse management. Largely perfecting the warehouses storage and simplifying steps in order fulfillment, the techniques also bring a labor-free environment in terms of efficient parcel consolidation, effective inventorys system, accurate correlation of SKUs and optimized management of robots.
With over 50 successful cases and 3000+ units of robots working in some well-known enterprises warehouses. Geek+ has already been a leading provider in warehousing and logistic automation solution. In April 2015, Geek+ received USD 1.5 million in Series A financing and raised USD 60 million in Series B in July 2017.
Geek+ is awarded Top 15 of Chinas innovation enterprises by Fortune Magazine
To learn more about Geek+ robotics, visit www.geekplusrobotics.com
Featured Product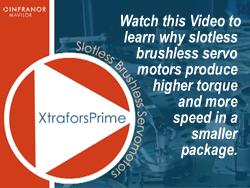 For 30 years, Infranor a motion control technology leader has been providing high-performance standard and custom motion control products and integration services. Feature Motor products include the FP series of Slotless Brushless Motors (high efficiency, best in class torque and power density, high speeds up to 30,000 RPM, smooth ZERO cogging motion, and 8 frame sizes). Pancake-style, explosion-proof, radiation-hardened, and kit motors are also available. Feature motor drives include the PAC/EASY series of compact servo drives (Sensorless, EtherCAT, CANopen, and Indexing).