First-of-its-kind social robot continues to introduce new skills and capabilities
People everywhere lead busy and often hectic lives, so anything that helps us get organized, informed and out the door each morning is a plus. Jibo, the first social robot for the home, understands the importance of starting the day the right way, and today announced the launch of Personal Report, a skill that enables Jibo to provide each member of the family with a daily, customized morning report.

Smart speakers will answer questions about whether it is raining outside or how traffic is looking, but only if you remember to ask them. Jibo goes beyond the competition, offering such information proactively, so family members never forget to pack an umbrella, or leave the house a few minutes early to avoid a traffic jam.
Information in each Personal Report includes:
The day's weather forecast
Commute information, including traffic level and impact on arrival time based on your preferred mode of transportation (i.e.,driving, public transit or walking)
Schedule summary pulled from your Google Calendar and Outlook Calendar accounts
The latest news headlines based on your interests, selected from ten different news categories, including national, politics, entertainment, technology and more
"The Jibo user experience is unmatched because of something we call the Three P's - personality, proactivity and personalization," said Nancy Dussault-Smith, VP, Marketing & Communications, Jibo, Inc. "Personal Report really brings to life Jibo's ability to proactively engage with his family to provide content that is customized for individuals, delivered with his unique personality."
Jibo uses his on-board face detection and recognition algorithms to see family members when they walk into the room, identify their faces and proactively offer their individual Personal Reports. Each person can benefit from a Personal Report customized to his or her individual schedule, commute or interests. Preferences can be customized via the Jibo App and family members can ask Jibo for their Personal Report -- or any of the individual components -- at any time.
More New Skills
In addition to Personal Report, Jibo has released a number of exciting new skills and companion apps since launching to the public in October 2017:
Jibo Music powered by iHeartRadio lets you stream music, news and talk radio via iHeartRadio Original stations
The Jibo Commander App allows owners to control multiple interactive aspects of their robots, ranging from speech (it's easy to program a phrase for Jibo!) and movement to visual display
Be a Maker, a mobile companion app, teaches children to code by allowing them to program their Jibo robot, using the familiar open-source Scratch programming language
Jibo Yoga turns Jibo into your own personal yogi through routines that help you focus on your breath, strength and intention
Fun, interactive games such as Word of the Day, and Circuit Saver, which utilizes Jibo's facial recognition technology to allow users to guide a spaceship using your body movements
A direct integration with Philips Hue personal wireless lighting systems, which allows Jibo to control users' lights
If This Then That (IFTTT) integrations to help streamline smart home/iOT devices, including Nest thermostats and WeMo coffee makers
In addition to his expanded skill set, Jibo is now also available in a number of new retail environments, giving consumers the opportunity to explore and experience Jibo in more ways than ever before. Consumers can now purchase their very own Jibo robot through a number of different retail channels - including Amazon, b8ta and Home Shopping Network - in addition to the Jibo Store.
About Jibo
Jibo was built by some of the most respected minds in social robotics and artificial intelligence, including Massachusetts Institute of Technology professor and industry pioneer, Cynthia Breazeal. Jibo was named one the "Best Inventions of 2017" by TIME Magazine, appearing on the publication's cover for the double issue.
To learn more about Jibo or order a Jibo, visit www.jibo.com.
About Jibo, Inc.
Founded in 2012, Jibo, Inc. is widely known for creating the eponymous robot, Jibo: the first social robot for the home. Jibo is built to interact and communicate with the people around him, and he uses advanced Natural Language Understanding (NLU) along with speech and facial recognition to forge relationships with his family. Jibo, Inc. officially launched Jibo to the public in 2017. The company is privately held and headquartered in Boston.
Featured Product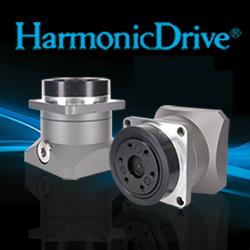 Harmonic Drive LLC, a leader in high precision motion control introduces new lightweight versions of select gearhead products. The new gearheads are ideal for designs where weight is a critical factor. Building on the success of Harmonic Drive LLCs current gear units, new lightweight versions were the next logical evolution of the CS/ SH product lines. With weight reductions of 20-30% without any reduction in torque ratings, the Lightweight (LW) gear units provide exceptional torque density.