To illustrate its capabilities, Trelleborg Sealing Solutions is launching a video and augmented reality brochure.
Trelleborg Sealing Solutions has worked with leading robotic equipment manufacturers since the first inception of the technology back in the 1960s. Since then, the company has become one of the leading suppliers of sealing solutions for the servomechanism, hydraulic and pneumatic systems that power the movement of robots. To illustrate its capabilities, Trelleborg Sealing Solutions is launching a video and augmented reality brochure.

These systems, with complex configurations of seals, are fundamental to the function of robotic equipment. Solutions are required to operate 24-7 with the minimum of downtime, either planned or unplanned. Specific sealing solutions are required that demonstrate outstanding friction capabilities to extend seal life, minimize wear and facilitate smooth and constant movement.
Yoichi Higuchi, who heads up the Robotics lead group at Trelleborg Sealing Solutions, says: "Robots are revolutionizing the way that our products are manufactured, how we look after our homes and procedures in hospitals, for instance. They are becoming critical to our everyday lives and the applications for high-tech appliances are increasing exponentially.
"The robotics market is expected to boom. According to Transparency Market Research the global market is likely to see growth of around 17% to reach revenues of 147 billion USD by 2025. When you consider that every robot that has moving 'arms needs a servomechanism, hydraulic or pneumatic system to control them, requirements for seals are going to be huge and continually become ever more challenging.
"In addition to increasing volume demands, there is a need for maximized performance. And ensuring this is becoming even tougher for component suppliers as robots become more sophisticated, size-optimized, faster, stronger and smarter."
Trelleborg Sealing Solutions supplies seals to numerous types of robots, including robots for industrial, medical, construction, disaster recovery, probe, surveillance, household, entertainment, drone and personal mobility applications. The video and brochure on robotics from Trelleborg Sealing Solutions explores a variety of typical robot applications and proven sealing solutions. The video and augmented reality brochure are available via the Trelleborg Sealing Solutions website www.tss.trelleborg.com.
-Ends-
For more information or high-resolution images, please contact:
Barry Clough, European Marketing Manager, Trelleborg Sealing Solutions
Telephone: +44 (0)121 746 3668
Email: barry.clough@trelleborg.com
About Trelleborg Sealing Solutions and Trelleborg Group
Trelleborg Sealing Solutions is one of the worlds leading developers, manufacturers and suppliers of precision seals, bearings and custom-molded polymer components. It focuses on meeting the most demanding needs of aerospace, automotive and general industrial customers, including those from the pharmaceutical industry, with innovative solutions. Its network extends to over 25 production facilities and more than 50 marketing companies globally. The business area accelerates the progress of its customers through outstanding local support, an unrivalled product range including patented products and proprietary materials, a portfolio of established brands, unique process offerings, its Service PLUS value chain solution and 'Ease of Doing Business philosophy.www.tss.trelleborg.com
Trelleborg is a world leader in engineered polymer solutions that seal, damp and protect critical applications in demanding environments. Its innovative solutions accelerate performance for customers in a sustainable way. The Trelleborg Group has annual sales of about SEK 32 billion (EUR 3.28 billion, USD 3.69 billion) and operations in about 50 countries. The Group comprises five business areas: Trelleborg Coated Systems, Trelleborg Industrial Solutions, Trelleborg Offshore & Construction, Trelleborg Sealing Solutions and Trelleborg Wheel Systems. The Trelleborg share has been listed on the Stock Exchange since 1964 and is listed on Nasdaq Stockholm, Large Cap. www.trelleborg.com
Featured Product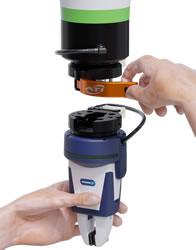 Simpler, stronger, and more precise. ATI Industrial Automation has developed a series of Manual Tool Changers that provides a cost-effective solution for quickly changing tools by hand. They feature a unique design that combines high strength, excellent repeatability, and a patent-pending screw-cam locking mechanism with multiple fail-safe features, which resists vibration and prevents loosening. These robust and compact Manual Tool Changers can handle payloads up to 80 pounds (36 kg) and pass pneumatics and electrical signals.