Tennis players, coaches and clubs double the Kickstarter campaign goal for the first robotic tennis ball retriever, which uses computer vision and artificial intelligence to collect tennis balls autonomously.
After scoring an ace with tennis players and coaches to raise more than $80,000 on Kickstarter for Tennibot, crowdfunding for the worlds first automated tennis ball retriever will continue on Indiegogo InDemand.

"Were excited with the response we enjoyed on Kickstarter…and we want to thank the backers who made Tennibot a success during our crowdfunding campaign," said Tennibot Founder and CEO Haitham Eletrabi. "These tennis enthusiasts will be the first to enjoy the automated method of collecting tennis balls from the court while they can put all their attention on perfecting their games."
Nicknamed the "Roomba for the tennis court" by Digital Trends and other national media, Tennibot is a compact, easy-to-transport device that uses computer vision and artificial intelligence to find and collect tennis balls on both hard and clay courts.
Using the Tennibot app, players and coaches can select which areas of the court Tennibot will clear during a session. This feature is extremely useful for practicing serves or during coaching sessions when tennis balls accumulate on one side of the court.
Tennibot can be programmed to pick up stray balls along a net or fence or collect balls around the perimeter of the tennis court.
"This means players will have more game-time during competition, and players and coaches can focus more on practice and less time bending over and chasing tennis balls all over the court," Eletrabi said.
Despite its compact size, Tennibot can collect up to 80 balls and has a battery that lasts up to five hours on a single charge. It also keeps track of the number of balls the player hits and how frequently they practice.
Tennibot has already garnered the Tennis Industry Association Innovation Award and received the 2018 Honoree Award from the Consumer Electronics Show.
For more information and to purchase Tennibot at an early-bird discount during crowdfunding pre-sales, visit the Tennibot Campaign Page on Indiegogo InDemand.
About Tennibot Inc.
Tennibot is an award-winning robotics company with offices in Auburn and Boston. Since 2015, the team has worked to create a product that will not only save players and coaches valuable practice time, but also make the game more enjoyable for tennis enthusiasts of all levels. For more information on the team and Tennibot, visit http://www.tennibot.com.
Featured Product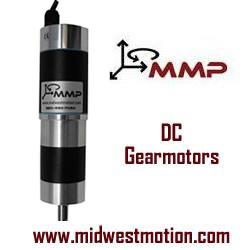 Midwest Motion Products, Inc. (MMP), is a well-established, healthy, & growing Family Owned Business, founded in 2001. MMP specializes in cost-effective standard DC Gearmotors, Motors, Controls, and ancillary equipment. Known world-wide for our "Lightning Fast" delivery capabilities, you can have a Standard Planetary or Right Angled DC Gearmotor BUILT and SHIPPED, often on the very same day you call. Offering Brushed and Brushless designs, with winding voltages ranging from 12 VDC to 120 VDC, we can deliver your "Robust & Reliable" samples within HOURS, instead of weeks, or even months.