Company reaffirms its commitment to being a 'Golden Partner' for companies looking to explore the Chinese market
HIT Robot Group (HRG), one of China's leading robot manufacturers, will present its Robotics Biosphere, a comprehensive set of services for companies at various business stages, at automatica 2018, an international exhibition for automation and robotics taking place at the Messe Munchen Fairground from June 19 to June 22 in Munich, Germany.

HRG's booth will highlight the latest technological breakthroughs and services that position it to be a "Golden Partner" to companies looking to explore the Chinese market, including its new Robotics Biosphere (the "Biosphere"). Developed over three years, the Biosphere provides a range of support and services to companies, especially those in robot industry, to land, grow and sustain their business in China. The Biosphere has three divisions, covering three major stages of a company's growth:
Innovation - Supports research and development efforts on core technologies and products.
Entrepreneurship - Focuses on incubating startups, coordinating academic-industry cooperation, and helping early-stage teams grow into mature managers.
Industry - Guides companies at different stages to maturity and finally enter their defined market.
"We are excited to attend automatica 2018 and present our unique Robotics Biosphere, a comprehensive service kit we can provide to companies that are eager to enter the ever-growing Chinese robotics market," said Wang Meng, Chief Executive Officer of HIT Robot Group. "With our knowledge of the local market, access to a wide variety of resources, and experience in local innovation, we believe we can help accelerate our international partners' development in China."
So far, the Biosphere has helped over 80 companies transform their technological achievements into market value.
At automatica, HRG will also display its latest products, including:
Skill Assessment Training Platform for Industrial Robotics - A training station for studying robotic carrying, welding, and laser engraving, which is equipped with a compact industrial six-axis robot, standardized industrial application education modules, and other automation equipment.
T5 Collaborative Robot - A safe and flexible six-axis collaborative robot that can be used to handle, sort, assemble, paint and inspect products on flexible production lines. In addition, HRG will present the T5 Collaborative Robot Ros Edition, with which users can perform customized operations with the help of rich resources from the ROS community.
Precision Cycloidal-Pin Gear Speed Reducer - A power transmission system used to connect power mechanisms and actuators that can reduce the power generated from the high speeds of motors, thus transmitting larger output torque.
Other products on display will include its Automatic Production Line for Lithium Batteries, Collaborative Robot Joint Module, Light Load Indoor Lidar Navigation AGV, and Bang Bang, a marketing platform for smart manufacturers to navigate the Chinese market.
During the exhibition, HRG, along with Hit Insights and the China Institute of Science and Technology Evaluation, will release its 2018 Analysis Report on the Robot Industry In China, a detailed overview of the latest trends and challenges in the Chinese robot industry.
About HIT Robot Group
HIT Robot Group (HRG), founded in 2014, is one of China's leading robotics companies. It focuses on manufacturing a range of robots and robotic equipment for different industries, and is a solution and service provider for technology companies. Currently, HRG has a presence in 13 major Chinese cities and overseas offices in Washington D.C., California, Frankfurt, Seoul and Tokyo.
For more information about HIT Robot Group, please visit: http://hrgrobotics.com
Featured Product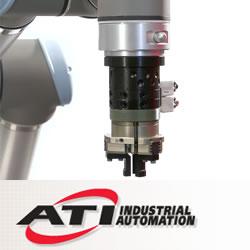 ATI Industrial Automation's MC-10 Manual Tool Changer provides a cost-effective solution for quickly changing tools by hand. Its compact yet robust design is optimized for collaborative robot applications. The ergonomic twist-collar locking mechanism ensures a secure attachment of the tool and easy manual operation with tactile feedback. This Manual Tool Changer can carry payloads of up to 22 lbs and includes multiple fail-safe features that resist vibration and prevent loosening. The MC-10 Manual Tool Changer has integrated air pass-through connections and options to connect electrical utilities if needed. ATI will feature the new MC-10 along with a variety of other robotic demonstrations and product displays at this year's IMTS show in Chicago (Booth #236417).