The Engelberger Award-winner further enhances the boards established expertise in robotics and AI
ROBO Global, creator of the first benchmark index tracking the global robotics and automation market, has expanded the strength and expertise of its advisory board with the addition of Daniela Rus, Ph.D., Professor and Director of CSAIL (Computer Science and Artificial Intelligence Laboratory) at MIT, one of the largest AI departments in the U.S.

In addition to 30 years of experience as a professor, Rus leadership in research, innovation, and education has won her the prestigious Engelberger Award. The third ROBO Global advisory board member to obtain the award, Rus research specifically focuses on mobile computing, robotics and data science.
"Our advisory board is comprised of some of the brightest minds in robotics, automation and AI to ensure that our indices and investment strategies deliver exposure to the leading companies in these fields," said Travis Briggs, CEO of ROBO Global U.S. "Dr. Rus extensive experience studying and educating others on robotics and AI will perfectly complement the expertise of existing board members, further enhancing our ability to aggressively monitor these emerging technologies and ultimately, help investors capitalize on their rapid growth."
Rus is the seventh Ph. D. to join the elite group of industry experts on ROBO Globals board, including the most recent additions of Ken Goldberg, Ph.D., Chair of the Industrial Engineering and Operations Research Department at UC Berkeley and Illah R. Nourbakhsh, Ph.D., Director of the Community Robotics, Education and Technology Empowerment Lab at Carnegie Mellon.
"The ROBO Global advisory board is a dream team of robotics and AI professionals who are on the front lines of these disruptive technologies," said Rus. "I look forward to contributing to such a powerful, knowledgeable team of industry experts and working with ROBO Globals management team to help capture the potential of computer science and AI for investors."
ROBO Global Indices are licensed in 11 countries and trade on nine exchanges throughout the U.S., Europe, Asia, Canada and Australia. Total AUM for investment products tracking the ROBO indices is over $4 billion* to date.
About ROBO Global
ROBO Global is the creator of the ROBO Global® Robotics and Automation Index series, which provides comprehensive, transparent and diversified benchmarks representing the value chain of robotics, automation and artificial intelligence. With the expertise of our leadership team and strategic advisors from the industry, we help investors capture the growth and return opportunities presented by this megatrend across industries, from healthcare to industrials to consumer products. Our indices are used by a variety of investment vehicles listed on multiple exchanges around the world. We are present in Dallas, San Francisco, New York and London. www.ROBOGlobal.com
Featured Product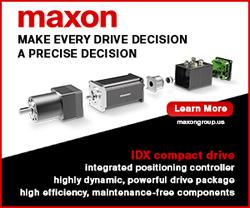 A brushless DC motor solution for use in hip and knee exoskeletons. This complete joint actuation unit consists of motor, gearhead, encoder and position controller. Fitting absolute encoder directly at the joint rotation provides designers increased positioning accuracy. The unit will deliver 54Nm of continuous torque and 120Nm on a 20% duty cycle. The system can be operated on supplies between 10 and 50V DC and the actuation speed is up to 22rpm.