Intelligent robots – to be powered by Sprint IoT and 5G – move autonomously to charge electric buses, cars and industrial vehicles
NEW YORK - June 20, 2018 - Sprint (NYSE: S) together with Adaptive Motion Group (AMG) has responded to New York Citys call to reduce CO2 emissions debuting the "Mobi" self-driving robot - designed to charge electric buses, cars and industrial vehicles. The units are solar charged and will move to where they are needed using artificial intelligence, advanced Sprint Internet of Things (IoT) technology and the Sprint 5G mobile network, coming to New York City starting in the first half of 2019.

"We are thrilled to demonstrate just how an intelligent robot like Mobi will dramatically reduce CO2 emissions across New York City by making electric vehicle use more practical," said Ivo Rook, senior vice president, IoT at Sprint. "AMGs impressive self-driving and positioning will come alive through Sprint IoT technology and the next-generation Sprint 5G mobile network we are building - allowing it to travel to parked vehicles across the city. The current reality of vehicles taking turns at electric charging stations is just not efficient and slows the real-world adoption of EVs. We believe that this is the ultimate solution for a cleaner, healthier New York City."
The tests will utilize Sprints LTE network in advance of the company launching the first 5G mobile network in the U.S next year. New York City was named among the first nine cities where Sprint will launch its super-fast, high capacity mobile 5G network, enabling incredible new connections to people and things, services and innovation solutions such as Mobi.
To further reduce carbon emissions, LG Electronics added an efficient energy storage solution that utilizes solar energy cells (PV) and a lithium-ion battery to charge the Mobi unit. Combined with a sophisticated system that will use small 5G signal units mounted on various city street fixtures to enable more accurate location navigation, known as micro-positioning, Mobi is a big step in creating a smarter New York City.
"5G enabled micro-positioning will enable new applications from connected vehicles to augmented reality," said David Bruemmer, CEO of AMG. "We are starting with parking lots, but smart parking will become smart roads and, eventually, smart cities."
NYCx: All-Star Collection of Companies Team Up For a Real-World Solution
A team of renowned technology, public transportation, satellite broadcast, industrial equipment and Sprint would allow connected vehicle applications to considerably reduce traffic congestion by an anticipated 40 percent and provide better emergency response, public safety, paratransit and ridesharing.
Combined efforts answer the challenge put forth by the citys NYCx project: to lower CO2 emissions by 40 percent by 2030. For more information see here: https://youtu.be/dsLM7myup_M
About Sprint
Sprint (NYSE: S) is a communications services company that creates more and better ways to connect its customers to the things they care about most. Sprint served 54.6 million connections as of March 31, 2018 and is widely recognized for developing, engineering and deploying innovative technologies, including the first wireless 4G service from a national carrier in the United States; leading no-contract brands including Virgin Mobile USA, Boost Mobile, and Assurance Wireless; instant national and international push-to-talk capabilities; and a global Tier 1 Internet backbone. Today, Sprints legacy of innovation and service continues with an increased investment to dramatically improve coverage, reliability, and speed across its nationwide network and commitment to launching the first 5G mobile network in the U.S. You can learn more and visit Sprint at www.sprint.com orwww.facebook.com/sprint and www.twitter.com/sprint.
About Adaptive Motion Group
AMG provides smart ecosystems where intelligent systems work in harmony with humans -- safely and intuitively. Using a combination of artificial intelligence and IOT positioning, AMG offers unique solutions for safety, tracking, and smart mobility, enabling a world where robots and humans can work side by side. For more information see www.adaptivemotiongroup.com
Featured Product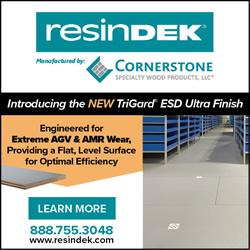 To maximize the productivity of an autonomous mobile robot (AMR) or automatic guided vehicle (AGV) deployment, it's critical to create the optimal environment that allows the vehicles to perform at their peak. For that reason, Cornerstone Specialty Wood Products, LLC® (www.resindek.com) created the TriGard® ESD Ultra finish for its ResinDek® engineered flooring panels. The TriGard ESD Ultra finish is ideal for high-traffic robotic applications characterized by highly repetitive movement patterns and defined travel paths.