The open-source robot supports multiple coding languages; is designed to align with and complement STEM curriculums
LOS ANGELES - June 20, 2018 - Today, UBTECH Robotics, the world leader in intelligent humanoid robots, introduces a new member of its family to the US Education market. Yanshee, an engineering marvel, combines an advanced AI interface, a programmable Raspberry Pi card, and a host of sensors and functionality which create the ultimate open-source platform for educators, students, and robot enthusiasts to learn, experiment, research, and engage with.

Standing, walking, or dancing! At nearly 15 inches tall, Yanshee features facial, gesture, voice recognition and activation, a speech-to-text functionality, and a built-in 1080i 8-Megapixel camera. STEM educators and students will find built-in sensors such as a gyroscope, temperature, humidity, air pressure, infrared, and ultrasonic. This combination of advanced technologies enables Yanshee to perform tasks on command, test environmental conditions, speak, listen, thoughtfully answer questions, and relay data.
The open source nature of the platform means students can leverage multiple coding languages - including C, C++, Python, Java and Blockly - to collaborate and engage with Yanshee.
"We are proud to present Yanshee as one of the inaugural products coming out of our newly formed Education Division," said Jeff Piontek, Head of Education, North America, UBTECH. "In keeping with our mission to transform education through robotics, Yanshee has been developed in parallel with a rigorous, standards-based curriculum. Educators will be provided with appropriate guidance and support to maximize an investment in this high-tech classroom assistant. Yanshee will add personality, emotion, and real-world connection to robotics and coding, creating a high interest, active-learning environment for our students."
"We see amazing possibilities for innovation with the addition of Yanshee to our family of Robotics products," said John Rhee, General Manager, North America, UBTECH. "Through partnerships with schools, educators, and parents, we are working to ensure that all students have increasing opportunity and exposure to hands-on experiences, intentionally designed to move complex concepts from STEM curricula out of the abstract."
For more information on UBTECH and its complete line of robots, please visit ubtrobot.com.
Featured Product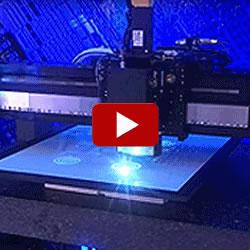 A traditional gantry system employs X-Y or X-Y-Z range of motion. Mounted on a base plate, usually granite, 2 parallel rails constitute the synchronized Y axis motion while the cross axis (bridge axis) provides the X motion. A vertical axis can be added on the bridge for the Z motion. A Split Bridge system can be less complex than a traditional gantry system because synchronization of the two parallel linear motors is not required. Both systems are used in industrial production, testing, and additive manufacturing.