Newly launched robotics kit features industry-first curriculum designed to complement NGSS and CCSS
LOS ANGELES—June 20, 2018—UBTECH Robotics, the world leader in intelligent humanoid robots, announced today the launch of UKIT - a new robotics kit featuring the first curriculum that is fully aligned with Next Generation Science Standards (NGSS) and Common Core State Standards (CCSS). UKIT is the first robotics kit to come out of UBTECHs newly formed Education Division. Its curriculum, developed by experts in their respective fields of science, mathematics and literacy, is designed to teach STEM (Science, Technology, Engineering, Math) concepts and skills students should know and be able to demonstrate at their grade levels according to the standards.

The UKIT curriculum also ties STEM literacy into each unit through a literacy prompt that exemplifies the connection between the lesson content and real-world application. During classes, students collaborate or work independently within their "Big Idea Book" to notebook, make hypotheses, gather data, and formulate questions about how the hands-on activity with the robot applies in a real-world scenario or as scientific phenomenon.
"The Big Idea Book, in combination with UKIT, serve as a conduit for children to focus on the essence of engineering - their imagination," said Jeff Piontek, Head of Education, North America, UBTECH. "When teachers use our kits, they teach that the study of robotics is truly interdisciplinary, and that robotics are in all types of mechanics and electronics today. They teach that robotics can use artificial intelligence and that robots can sense and perceive the world around them. Most importantly, teachers convey the possibilities of robotics and that the field will be a part of the future."
"Robotics kits have the potential to be an integral part of teaching today, supporting not only STEM education, but collaboration, team building, ethical and effective use of technology as well as computational and critical thinking skills," said Steven Barbato, Executive Director/CEO of the International Technology and Engineering Educators Association (ITEEA). "UKITs alignment with NGSS, CCSS, and STL instills even greater confidence in the use of robotics kits in the classroom as well as enables educators to more deeply ingrain them in our Integrative STEM Education lesson plans."
"We believe strongly in the importance of STEM education," said John Rhee, General Manager, North America, UBTECH. "Our investment in the newly formed Education Division shows our deep commitment to partnering with educators to prepare our children for the future by instilling the skills they will need to be successful in both academia and life."
As part of the JIMU ecosystem, the UKIT comes with everything a student in the classroom or at home needs to build and code, including servos, building blocks and an Arduino processor in the advanced kit.
For more information on UBTECH and its complete line of robots, please visit ubtrobot.com
Featured Product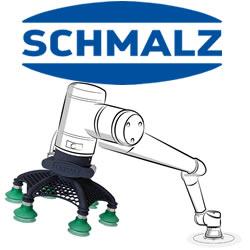 In order to interact with their environment and perform the tasks, lightweight robots, like all industrial robots, depend on tools - and in many cases these are vacuum grippers. These form the interface to the workpiece and are therefore a decisive part of the overall system. With their help, the robots can pick up, move, position, process, sort, stack and deposit a wide variety of goods and components. Vacuum gripping systems allow particularly gentle handling of workpieces, a compact and space-saving system design and gripping from above. Precisely because the object does not have to be gripped, the vacuum suction cupenables gapless positioning next to each other.