The AI-powered Butler range from GreyOrange unlocks the highest efficiencies in logistics at warehouses and distribution centers
Singapore, 26 June 2018 - GreyOrange, a multinational robotics and supply chain automation company, and Advanced Warehouse Solutions, their distributor in Australia, will showcase the Butler range of robotics solutions at CeMAT Australia 2018, at the Melbourne Convention and Exhibition Centre on 24-26 July.

Ashley Henderson, National Sales Manager, Advanced Warehouse Solutions said, "We are proud to partner with GreyOrange and present their AI-enabled robotics solutions to the markets in ANZ. The Butler goods-to-person system has been well received and deployed in sites across Asia and Europe and we are excited to share its many applications. We invite visitors to meet with our Solution Experts to get to know how the latest robotics technologies can unlock new efficiencies in their warehouses."
Nalin Advani, CEO - APAC, GreyOrange, added, "Our customers in Japan, Asia and Europe have discovered ways to optimise operations further using the AI in our Butler system for applications across FMCG, apparel and e-commerce products, among others. We hope to bring our learnings and applications to the Australian markets, for supply chain processes to gain improvements in productivity in even shorter turnaround times."
Australia-owned Advanced Warehouse Solutions (AWS) is one of the biggest providers of Australian Made storage equipment. AWS has installed the largest flow racking system ever built in Australia. Their solutions are designed to work with all types of automated solutions like Butler robotics system from GreyOrange.
In the global logistics and warehouse automation market for robots, significant growth is expected in the years 2018 to 2022, with a CAGR of more than 11 percent. Innovations in supply chain will be a key differentiator for businesses in Australia to stay competitive. The robotics solutions from GreyOrange include the Butler system used in distribution centers and omni-channel warehouses, its software platform GreyMatter, plus a collaborative robot, Butler PickPal.
The ButlerTM goods-to-person system, comprising Butler M and Butler XL, can handle a payload of 100 to 1600 kgs (220 to 3500lbs) to move different kinds of loads from finished goods to raw materials, including pallets, drums and sacks. It supports multi-floor operations by using an elevator on its own, providing even greater flexibility to handle inventory across a facility.
GreyMatter, the software platform from GreyOrange, integrates multiple automation systems to synchronize material flow, and to gain the highest efficiencies to manage omni-channel warehouses. It leverages Artificial Intelligence (AI) and Machine Learning (ML) to optimize, in real-time, large and complex operations for e-commerce, Retail, Manufacturing and 3rd Party Logistics (3PL).
Butler PickPal is the latest innovation from GreyOrange for high-speed auto-fulfilment. It unlocks the next levels of efficiency and cost savings as it revolutionizes the picking of high-mix SKU inventory in e-commerce fulfilment centers. Powered by Artificial Intelligence (AI) and Machine Vision, this collaborative robot works alongside a warehouse operator to increase throughput multifold.
Talk to the Solution Experts from GreyOrange and Advanced Warehouse Solutions about these high-performance products and solutions at CeMAT Australia, Melbourne, on 24-26 July, at Stand A22, Melbourne Convention and Exhibition Centre. Contact GreyOrange at info@greyorange.com
About GreyOrange
GreyOrange is a multinational technology company that designs, manufactures and deploys advanced robotics systems for automation in warehouses, distribution and fulfilment centres. With deep domain expertise, world class hardware and software engineering and the passion to solve complex business problems, the company is advancing the way logistics and supply chain processes across the world are being optimized. Founded in 2011, GreyOrange is headquartered in Singapore with offices in India, Hong Kong, Japan, Germany and UAE, and a state-of-the-art Research and Development centre in Gurgaon, India. To know more, visit www.GreyOrange.com
Featured Product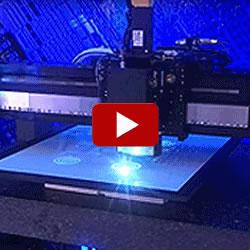 Hexapod micro-motion robots are based on a very flexible concept that can easily solve complex motion and alignment problems in fields including Optics, Photonics, Precision Automation, Automotive, and Medical Engineering.