The low-cost uEye LE industrial cameras with twist-proof USB Type-C connection and practical USB power delivery are particularly interesting for logistics systems (e.g. for package acceptance and sorting), for microscopy and traffic monitoring as well as for installation in small medical or industrial devices.Easily focused via software: USB 3.1 Gen 1 uEye LE board level cameras from IDS
From July 2018 the uEye LE USB 3.1 Gen 1 single board cameras with S-Mount or CS-/C-Mount from IDS Imaging Development Systems GmbH will also be available with versions for use with and control of liquid lenses. These industrial cameras enable optimally focused images at different object distances, because users can easily and conveniently control the focus via the user interface or programming interface. The low-cost uEye LE industrial cameras with twist-proof USB Type-C connection and practical USB power delivery are particularly interesting for logistics systems (e.g. for package acceptance and sorting), for microscopy and traffic monitoring as well as for installation in small medical or industrial devices.Easily focused via software: USB 3.1 Gen 1 uEye LE board level cameras from IDS

The new uEye LE USB 3.1 Gen 1 board level models with liquid lenses are available with the 6.4 MP Sony IMX178 rolling shutter sensor or with the extremely light-sensitive 18 MP AR1820HS rolling shutter sensor from ON Semiconductor. They are equipped with a 10-pin I/O SMD connector for GPIO, trigger and flash and enable IDS-typical "Plug and Play". USB Power Delivery enables variable power to be supplied for peripheral devices at the I/O port.
The camera has an additional board for controlling the liquid lenses. This allows the focus to be set directly from the camera. Users can choose whether they prefer to use the uEye Cockpit for adjustments or access the camera via API.
IDS can also supply matching liquid lens lenses. They stand out for their precise and fast adjustability and perfect compatibility with the IDS board level cameras.
Featured Product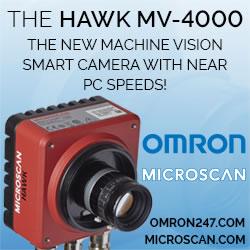 Awe-inspiring power and superior flexibility is sheathed within the contoured casing of the HAWK MV-4000. This smart camera builds upon the previous generation by quadrupling processing power and achieving real-time trigger response using an FPGA. Its state-of-the-art algorithms make it an excellent tool for any industry, whether the requirement be code reading, code verification, inspection, guidance, gauging or a combination of all four.