-Bosch Center for Artificial Intelligence partners with Carnegie Mellon University to accelerate AI research -Leading AI expert Zico Kolter to join Bosch as chief scientist of AI while continuing to serve as CMU faculty
Bosch in North America today announced the launch of the Bosch Center for Artificial Intelligence (BCAI) Research Lab in Pittsburgh, which will be the BCAIs fourth location. The lab will conduct advanced research in artificial intelligence (AI) technologies.

The new location is the next step in BCAIs mission to partner with leading institutions around the world to jointly accelerate AI research. Bosch plans to build a team of up to 20 AI experts at Boschs Pittsburgh Technology Center by the end of 2019.
In addition, Bosch will provide more than $8 million to sponsor research at Carnegie Mellon University (CMU) through 2023. This collaboration represents another important milestone in the longstanding and mutually beneficial partnership between Bosch and the world-renowned university. Having established a presence in Pittsburgh in 1999, Bosch has played an important role in fostering the development of Pittsburghs flourishing tech community.
The launch of the BCAI Research Lab in Pittsburgh is highlighted by CMUs Professor Zico Kolter joining Bosch as chief scientist in AI. Kolter, an assistant professor at CMUs School of Computer Science (SCS), will direct the multi-million dollar research projects at CMU, in addition to contributing to Boschs global R&D efforts as a principal member of the BCAI.
Kolter, a leading expert in AI research, develops methods that make machine learning more robust, interpretable and modular. He also has worked on applications for smart energy and sustainability solutions. Some of his recent work looks specifically at machine learning methods that are provably resistant to so-called "adversarial attacks" and methods for incorporating optimization procedures as modules within the loop of more complex deep learning systems.
Significantly, while working for Bosch, he will continue to teach and perform research as a faculty member at SCS, which U.S. News and World Report this spring rated the No. 1 U.S. graduate school for artificial intelligence, as well as a top-ranked school for computer science overall.
"Were excited to establish BCAI Research in Pittsburgh with Zico Kolter as part of the long-term collaboration between CMU and Bosch," said Christoph Peylo, global head of BCAI. "CMU, with its tradition as one of the leading institutions in AI research, is an important pillar in BCAIs mission to develop safe, robust and secure AI for Bosch products and services."
With a widening gap between industry need and available talent, Bosch is partnering with leading academic organizations such as CMU to develop future professionals skills in the dynamic field of AI. The collaboration will also create new opportunities to further AI technology that contributes to advances in Boschs four business sectors - Mobility Solutions, Consumer Goods, Industrial Technology, and Energy and Building Technology. Under this partnership, Bosch will expand its AI capabilities while simultaneously training the next generation of AI experts.
"We at Carnegie Mellon are excited to be working with Bosch to find new ways to use artificial intelligence to improve lives and to develop the next generation of AI scientists," said Andrew Moore, dean of CMUs School of Computer Science. "Bosch will benefit greatly from Zico Kolters insights, while Zico continues his essential research and teaching here at Carnegie Mellon."
CMU has been a leader in AI since the field emerged 60 years ago, pioneering advances in self-driving cars, facial recognition and natural language processing. Last year, SCS expanded its efforts through the CMU AI initiative and this year launched the first U.S. undergraduate degree in AI.
BCAI was founded in early 2017 to deploy cutting-edge AI technologies across Bosch products and services. Using data from Bosch domains, BCAI creates differentiating technology by solving challenges in high-potential lead applications. It scales research results and generates value through deployment of machine learning in products, processes, and services in areas such as manufacturing, engineering, supply chain management and intelligent services. BCAI Pittsburgh is the most recent addition to BCAIs locations around the globe - Renningen, Germany; Sunnyvale, California; and Bangalore, India.
Since its inception, BCAI has sought out innovative partnerships with international universities as well as partners from politics, business and science to solve today's most challenging AI problems. BCAI is actively looking for opportunities to expand its research network further and collaborate with industry thought leaders.
During the Robotics: Science and Systems (RSS) conference hosted at CMU June 26-30, Bosch and its partners will celebrate the launch of the BCAI research lab, as well as the partnership with CMU, with robotics researchers from around the globe. This invitation-only event will be held June 27 at 8 p.m. at the prestigious Phipps Conservatory botanical gardens near CMUs campus in Pittsburgh, following the Bosch-sponsored RSS Pittsburgh Robotics Showcase. The Robotics Showcase will be held in the Atrium of CMUs Newell-Simon Hall and is open to all conference attendees.
About Bosch
Having established a regional presence in 1906 in North America, the Bosch Group employs nearly 34,500 associates in more than 100 locations, as of December 31, 2017. In 2017 Bosch generated consolidated sales of $13.7 billion in the U.S., Canada and Mexico. For more information, visit twitter.com/boschusa, twitter.com/boschmexico and www.bosch.ca.
The Bosch Group is a leading global supplier of technology and services. It employs roughly 400,500 associates worldwide (as of December 31, 2017). According to preliminary figures, the company generated sales of 78 billion euros ($88 billion) in 2017. Its operations are divided into four business sectors: Mobility Solutions, Industrial Technology, Consumer Goods, and Energy and Building Technology. As a leading IoT company, Bosch offers innovative solutions for smart homes, smart cities, connected mobility, and connected industry. It uses its expertise in sensor technology, software, and services, as well as its own IoT cloud, to offer its customers connected, cross-domain solutions from a single source. The Bosch Groups strategic objective is to create solutions for a connected life, and to improve quality of life worldwide with products and services that are innovative and spark enthusiasm. In short, Bosch creates technology that is "Invented for life." The Bosch Group comprises Robert Bosch GmbH and its roughly 450 subsidiaries and regional companies in some 60 countries. Including sales and service partners, Boschs global manufacturing, engineering, and sales network covers nearly every country in the world. The basis for the companys future growth is its innovative strength. At 125 locations across the globe, Bosch employs 62,500 associates in research and development.
Additional information is available online at www.bosch.com, www.iot.bosch.com, www.bosch-press.com, www.twitter.com/BoschPresse.
Exchange rate: 1 EUR = $1.12968
About Carnegie Mellon University
Carnegie Mellon (www.cmu.edu) is a private, internationally ranked research university with programs in areas ranging from science, technology and business, to public policy, the humanities and the arts. More than 13,000 students in the universitys seven schools and colleges benefit from a small student-to-faculty ratio and an education characterized by its focus on creating and implementing solutions for real problems, interdisciplinary collaboration and innovation.
Featured Product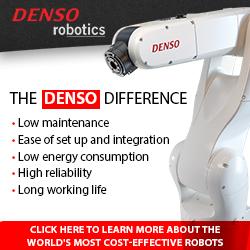 DENSO is the world's largest manufacturer - and user - of small assembly robots, employing over 17,000 of its robots in its own facilities. Over 77,000 additional DENSO robots are used by other companies worldwide. The compact, high-speed robots are used in traditional manufacturing sectors, as well as in advanced-technology applications in the medical, pharmaceutical and life sciences industries. Learn more about DENSO Robotics