The industry leader in robotic solutions for food demonstrates its expertise in everything from primary processing to secondary packaging and palletization
DUNCAN, S.C. (August 20, 2018) - Stäubli will showcase real-world examples that demonstrate why it is recognized as the industry leader in food-grade robotic solutions at PACK EXPO (booth #N4848). The event will be held at McCormick Place in Chicago, October 14-17.

Automated solutions for the food industry can create difficult conditions for robotics. Stringent hygiene standards require frequent wash downs to ensure compliance, and many automated solutions are unable to withstand the rigorous requirements of food production. For several decades, Stäubli has invested in research and development of solutions specific to the food industry, which has resulted in a wide range of robots capable to work in direct contact with fresh food and in a strict hygienic environment.
"Now, all Stäubli four- and six-axis robots are available in both standard and food grade, humid environment versions, which ensures complete coverage for every aspect of food production, from primary processing to secondary packaging and palletization," said Sebastien Schmitt, robotics division manager, Stäubli North America.
At PACK EXPO, Stäubli will showcase solutions for case packing with its TS SCARA 4-axis robot. Fast and compact, the TS robot is perfect for even the most sensitive applications, such as packaging delicate confections. The company also will showcase an innovative application for bakery, featuring a TX90HE 6-axis robot handling bread trays, scoring bread loaves, and even washing itself down.
The company also will unveil its new Academia Box, which is a hands-on demonstration cell designed to offer booth visitors instruction on how to code, program and utilize the companys TX2 robots using the new CS9 controller.
"We hope to showcase real-world examples that demonstrate why our robots offer the most comprehensive solutions for every aspect of food production," said Schmitt.
Robots improve process repeatability and can help manufacturing operations achieve the highest levels of hygienic design as well as performance and safety. Stäubli HE robots represent the ideal solution for any food production scenario because they can easily be cleaned with detergents and hosed off with a water jet as part of the daily cleaning routine. The robots are designed to avoid water retention areas on both external and internal surfaces of the equipment itself and are resistant to most detergents and cleaning agents. Stäubli has tested its HE robots for compatibility with more than 250 chemicals, and the company also features a dedicated lab to review exact wash-down procedures on a case-by-case basis for Stäubli customers.
Since 1982, the Stäubli Group has brought its innovation to the robotics marketplace, and today Stäubli Robotics is a leading player in automation around the world. Visit Stäubli at booth #N4848 to see how the companys high-performance technologies are improving efficiency and safety in the workplace.
About Stäubli North America
Stäubli North America has over 200 employees supporting Textiles, Connectors and Robotics customers. The companys North American headquarters is located in Duncan, S.C., and the sales force is strategically placed on the West Coast, Canada, Mexico and elsewhere thoughtout the continent.
Stäubli is a leading manufacturer of textile machinery, quick release couplings and robotics systems. With a workforce of over 4,500 employees Stäubli is present in 25 countries supported by a comprehensive distribution network in 50 countries worldwide.
Visit www.staubli.us for more information on the company and products.
Featured Product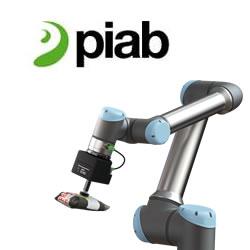 Piab's Kenos KCS gripper enables a collaborative robot to handle just about anything at any time. Combining Piab's proprietary air-driven COAX vacuum technology with an easily replaceable technical foam that molds itself around any surface or shape, the gripper can be used to safely grip, lift and handle any object. Standard interface (ISO) adapters enable the whole unit to be attached to any cobot type on the market with a body made in a lightweight 3D printed material. Approved by Universal Robots as a UR+ end effector.