Danish-based robotics manufacturer and industry first mover will showcase entire fleet of AMRs, including new MiR500, at IMTS 2018 in Chicago Sept. 10-15
ODENSE, Denmark - Sept. 5, 2018 - Mobile Industrial Robots (MiR), a leading global supplier of autonomous mobile robots (AMRs), today announced five new distributors in the US, Mexico and Argentina to help meet the ever-increasing demand for its robots worldwide. MiR, whose North American sales account for nearly a quarter of its worldwide growth, added Allied Automation, based in Indianapolis, Indiana; Empire Automation System in Rochester, N.Y., known as MASEAS; Lydey Automation in Maumee and Brecksville Ohio; I3 Mexico in Monterey Mexico, Murten S.L.R., in Buenos Aires, Argentina, and Macon, in Tierra del Feugo, Argentina. This brings the total number of MiR distributors to 143 in 40 countries.

"Automating internal transport with mobile robots is proving to be a key element for manufacturers to optimize production and increase competitiveness," said Ed Mullen, general manager - North America, Mobile Industrial Robots. "This is especially true within multinational corporations that have successfully tested our robots within a few facilities and now want to optimize their internal transportation throughout their plants worldwide. By expanding our distribution network throughout the US and Latin America, we can help even more companies reap the benefits."
Increased Demand Requires New Distributors, More Focus on Latin America
MiR has grown quickly since its founding in 2013, with sales rising by 500 percent from 2015 to 2016, and 300 percent from 2016 to 2017. MiR added its second US office in San Diego this spring, which includes an entire team focused exclusively on growing sales in Latin America.
"Not only are US companies benefiting from our autonomous mobile robots, but there is great potential for growth in Latin America, since many of our multinational customers in the automotive, consumer goods and electronics industries have production plants in Mexico, Brazil and Argentina," Mullen added. "This provides distributors with ready-made customers, while providing local examples of successful use cases to share with potential customers to demonstrate how automating logistics with mobile robots is helping them save money and increase productivity overall."
MiR Showcases AMRs for Light and Heavy Transport Needs at IMTS 2018
Each member of the family of MiR AMRs is flexible, easy to program and safe for both heavy and light internal transport, enabling companies to optimize logistics throughout the entire production chain, from the warehouse to the delivery of goods. The MiR100 and MiR200 AMRs, which can autonomously transport up to 100 kg (220 lbs) and 200 kg (440 lbs) respectively, were joined in June by the MiR500, which satisfies the industry need for a bigger, stronger and faster AMR. MiR will demonstrate all three AMRs at the International Manufacturing Technology Show (IMTS 2018) at booth #121468.
Demonstrations include:
• The new MiR500, with a lifting capacity of 500 kg (1102 lbs), which is designed to transport pallets in manufacturing floors and warehouses, and can automatically collect, transport and deliver pallets with speeds of 2 miles per hour.
• The MiR200 with a Universal Robots UR5 robot arm and OnRobot RG2 gripper, which demonstrates how the robots can pick up, autonomously transport and deliver circuit boards, allowing the UR5 to service multiple work stations. To meet the tasks precise requirements, the MiR200 connects to a docking station built into a stationary table.
• The MiR200 with a MiRHook, which can tow carts weighing up to 500 kg (1102 lbs).
"Aligning with MiR was an easy call," said Don David, president and CEO of Minuteman | Empire Automation Systems. "Not only does MiR fit into our existing portfolio of high-tech products, but as an innovative and forward-thinking company, MiR exemplifies everything we look for in a strategic partnership. Its commitment to R&D and marketing will ensure that our customers end up with not just a quality product, but one that is flexible enough to meet the needs of an ever-shifting industrial landscape. The entire team at Minuteman | Empire Automation Systems is very excited to embrace MiR as we explore new opportunities with customers old and new."
According to Dan Lydey, president of Lydey Automation Company, "As so many of our customers are trying to apply collaborative robotics to automate their manufacturing processes, MiR provides a platform that offers a clear and short path to ROI with exciting new tools for productivity and growth. The robot interface is very intuitive, the autonomy and safety of the robot is impressive, and the handling capabilities are very industrial. MiR is a logical choice for our customers who would rather be spending less time learning, and more time using, collaborative robotics."
About Mobile Industrial Robots:
Mobile Industrial Robots (MiR) develops and markets the industrys most advanced line of collaborative and safe autonomous mobile robots (AMRs) that quickly, easily and cost-effectively manage internal logistics, freeing employees for higher-value activities. Hundreds of mid-sized through large multinational manufacturers, along with several hospitals and nurseries around the world, have already installed MiRs innovative robots. MiR has quickly established a global distribution network in more than 40 countries, with regional offices in New York, San Diego, Singapore, Dortmund, Barcelona and Shanghai. MiR has grown quickly since its founding in 2013, with sales rising by 500% from 2015 to 2016, and 300% from 2016 to 2017. Founded and run by experienced Danish robotics industry professionals, MiR is headquartered in Odense, Denmark, and was recently acquired by U.S. company Teradyne, the leading supplier of automated test equipment. Three years ago, Teradyne also acquired the Danish company Universal Robots. For more information, visit http://www.mobile-industrial-robots.com.
Featured Product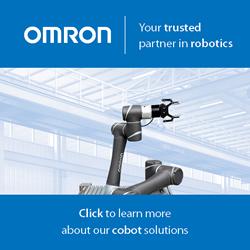 Humans and robots can now share tasks - and this new partnership is on the verge of revolutionizing the production line. Today's drivers like data-driven services, decreasing product lifetimes and the need for product differentiation are putting flexibility paramount, and no technology is better suited to meet these needs than the Omron TM Series Collaborative Robot. With force feedback, collision detection technology and an intuitive, hand-guided teaching mechanism, the TM Series cobot is designed to work in immediate proximity to a human worker and is easier than ever to train on new tasks.