Three popular collaborative robot applications available at launch include machine tending, assembly and packaging, with step-by-step guidance on end effectors, programming, machine interfaces and more.
Universal Robots continues to address the automation skills gap with its new Application Builder tool that eases robotic cell configuration and deployment while raising robot literacy and capabilities. Application Builder walks customers through the entire process of building a successful UR robot application that is optimized for throughput and cost. The online configuration tool provides a step-by-step process to choose the right robot and end-of-arm tooling, to walk through the pros and cons of different configuration options, and to learn the skills required to complete a full solution.

Application Builder will launch at IMTS in Chicago September 10-15 at Universal Robots IMTS booth N-236861, where the addition of a virtual reality headset will let attendees enter inside the virtual world of a working robot application.
"We continue to innovate to make robots accessible and cost-effective for the broadest possible audience," says Stefan Stubgaard Head of URs Global Competence Center. "Application Builder gives anyone the tools and skills they need to quickly configure and deploy a successful robot application with complete confidence that it will satisfy their requirements."
Three popular collaborative robot applications are available at launch, including machine tending, assembly and packaging. Application Builder provides a complete program template for the specific application; customers are walked through configuration questions to help define the most appropriate end effector for cost and throughput requirements, they are shown how to interface the robot controller with other equipment, and how to program the robot for specific application requirements such as torque for screw-driving applications or pattern setups for pallet stacking. Additional applications are also in the works.
About Universal Robots
Universal Robots was co-founded in 2005 by the companys CTO, Esben Østergaard - the 2018 Engelberger Award Winner - who wanted to make robot technology accessible to all by developing small, user-friendly, reasonably priced, flexible industrial robots that are safe to work with. Since the first collaborative robot (cobot) was launched in 2008, the company has experienced considerable growth with the user-friendly cobot now sold worldwide. The company, which is a part of Teradyne Inc., is headquartered in Odense, Denmark, and has subsidiaries and regional offices in the United States, Germany, France, Spain, Italy, Czech Republic, Turkey, China, India, Singapore, Japan, South Korea, Taiwan and Mexico. In 2017, Universal Robots had a revenue of USD 170 million. For more information, please visit www.universal-robots.com or read our blog at blog.universal-robots.com.
Featured Product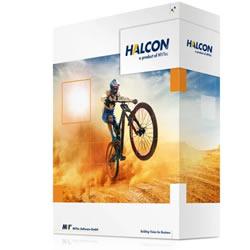 MVTec HALCON is the comprehensive standard software for machine vision with an integrated development environment that is used worldwide in all kind of industries. It enables cost savings and improved time to market. HALCON's flexible architecture facilitates rapid development of any kind of machine vision application. The software provides outstanding performance and a comprehensive support of multi-core platforms, special instruction sets like AVX2 and NEON, as well as GPU acceleration. The latest version HALCON 19.11 offers a wide range of new and improved machine vision functions. Particular emphasis was placed on the integration of further deep learning features. Now users benefit from massive simplifications for their applications, like faster inspection with anomaly detection, more transparency with the Grad-CAM heatmap and the support of ONNX format.