New conference program and exhibit area will feature tech keeping us healthy and safe
The Consumer Technology Association (CTA) - owner and producer of CES® - today announced a new conference program and exhibit area focused on Resilience and resilient technologies for CES 2019. To compliment the successful launch of CES Smart Cities at CES 2018, the Resilience Conference will allow attendees to experience technologies that keep the world healthy, safe, warm, powered, fed and secure, even in the face of adversity. CES 2019, the global stage for innovation, will run Jan. 8-11, 2019, in Las Vegas.

"Our mission is to encourage and expose innovation which improves the human condition. People expect and need basic services like power, water and broadband. Localism is becoming more important. Recent natural disasters and climate change make it clear that our future history must ensure innovation will focus on preparedness and recovery," said Gary Shapiro, president and CEO, CTA. "CES Smart Cities already successfully showcases the technology, solutions and players that shape better urban design. Resilience will expand on these topics with a greater focus on how technology aids the localism and continuity of critical infrastructure and the ability to operationally bounce back or keep going during a crisis."
The Resilience Conference will deliver world-class conference programming, insights and solutions from the worlds most influential leaders and government officials, law enforcement, investors, startups, city planners, major brands and corporate technology attendees. Themes include preparedness, responsiveness and recovery, with deep dives into communication and redundancies, energy, water crises, cybersecurity, health and disaster recovery.
"I originally proposed the concept of 'resiliency to CES because it has become an important consideration to both the developing and developed world. We have seen the evidence of the need for resiliency from our work at Breakthrough Energy, where our mission and mandate is truly global," said Carmichael Roberts, senior member of Breakthrough Energy (the climate-focused fund started by Bill Gates), managing partner of Material Impact and a board member of Zero Mass Water- a CES 2018 exhibitor that democratizes water by pulling it from thin air. "This need for more robust products to create an impervious infrastructure is becoming apparent in all geographies, so we want to see innovations that are truly resilient, which should dramatically protect and improve the lives of human beings."
CES is the largest and most influential technology event on the planet, drawing in more than 60,000 international attendees from over 155 countries/regions/territories to discuss global issues. Its the proving ground for transformative tech such as 5G connectivity, artificial intelligence, augmented and virtual reality, smart cities, sports, robotics and more. Companies of all sizes come to launch products, build brands and partner to solve some of todays most pressing societal challenges.
Register for CES 2019 to witness the future of smart cities and resilience become reality. Contact the CES Sales Team for more information on exhibiting opportunities.
About CES:
CES® is the world's gathering place for all who thrive on the business of consumer technologies. It has served as the proving ground for innovators and breakthrough technologies for 50 years-the global stage where next-generation innovations are introduced to the marketplace. As the largest hands-on event of its kind, CES features all aspects of the industry. Owned and produced by the Consumer Technology Association (CTA)™, it attracts the world's business leaders and pioneering thinkers. Check out CES video highlights. Follow CES online at CES.tech and on social.
About Consumer Technology Association:
Consumer Technology Association (CTA)™ is the trade association representing the $377 billion U.S. consumer technology industry, which supports more than 15 million U.S. jobs. More than 2,200 companies - 80 percent are small businesses and startups; others are among the worlds best-known brands - enjoy the benefits of CTA membership including policy advocacy, market research, technical education, industry promotion, standards development and the fostering of business and strategic relationships. CTA also owns and produces CES® - the worlds gathering place for all who thrive on the business of consumer technologies. Profits from CES are reinvested into CTAs industry services.
Featured Product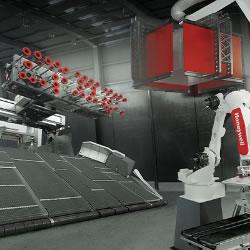 Honeywell Intelligrated is recognized by the Robotic Industries Association (RIA) as a Certified Robot Integrator, with more than a quarter-century of experience providing single-source robotic solutions for high-performance distribution and manufacturing operations. From system concepting, simulation, fabrication and integration to installation and commissioning, training and ongoing support, each solution is approached with a comprehensive lifecycle view to maximize the value of your system.