Company engineers providing input to CXP steering committee
WOBURN, MA, OCTOBER 3, 2018 -- BitFlow, a global innovator in frame grabber technology for machine vision, announced today that its engineering team is continuing to furnish input and direction to the Japan Industrial Imaging Association (JIIA) on the finalization of the JIAA's CoaXPress v2.0 (CXP v2.0) machine vision interface standard, most recently at a steering committee meeting held last month in Austin, TX.

Coordinating with the JIIA on a standardization roadmap is serving to help BitFlow in the development and launch of its first generation of CXP v2.0 frame grabbers targeted for the first quarter of 2019, explained Donal Waide, Director of Sales for BitFlow, Inc.
"Until a global standard has been fully tested, verified and finalized, we felt it would be premature to introduce a CXP v2.0 frame grabber," said Waide. "By assisting the JIIA steering committee our engineers have been kept informed of emerging, fast-changing details of CXP v2.0 which will ensure that the frame grabbers we launch are certified to that standard and meet the quality expectations of system designers."
Introduced almost a decade ago, CoaXPress standard v1.1.1 is supported by over 50 vendors of cables, connectors, intellectual property, transceivers, cameras, frame grabbers, simulators, range extenders and software. CXP v2.0 will double the current 6.25 Gbps image data transfer rate to 12.5 Gbps, therefore allowing for higher frame rates or larger camera resolutions. The JIIA and BitFlow have concluded CXP v2.0 is necessary for manufacturers to achieve the extremely high levels of quality, cost efficiencies and productivity needed to gain a competitive edge in the global economy.
Among its many proven advantages, CoaXPress allows video, camera control for triggering, and up to 13W of power per link to be transferred without latency on off-the-shelf coaxial cables up to 40 meters in length (without repeaters). The data rates of this new standard dwarf anything previously seen. Data rates can reach up to 5GB/S of data on a quad link system. Camera Link (850 MB/S), USB3 (382 MB/S) and GigE Vision (100 MB/S) can be easily accomodated in a single link camera/grabber combination (1.25GB/S). These increased data rates over a single cable will enable vast improvements in machine building technology. Also, because CoaXPress relies on standard coax, many such cables previously installed in legacy defense and security systems utilizing analog cameras can be re-used for migrating to digital imaging, eliminating the cost of new cabling.
For more information, please call 781-932-2900 or visit www.bitflow.com.
Featured Product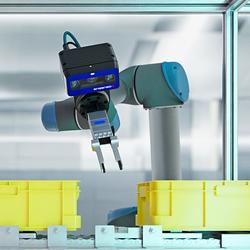 IDS NXT: a platform for a new generation of vision systems for industrial applications. It lays the groundwork to provide easy-to-use yet flexible complete systems that can be used to implement all steps of a vision solution. With IDS NXT ocean, a complete solution especially for AI-based image processing is now available. It allows to solve tasks where classic, rule-based image processing has reached its limits - without any programming effort.