Barsys Launches Automated Cocktail Maker in US Market
(New York, NY) -- Introducing the robotic bartender that fits right on your tabletop, Barsys. Your drink can now zip seamlessly from left to right as its perfectly poured by machine. Barsys is easily controlled with the user-friendly mobile app, available on both Android and iOS systems. Simply let the platform know what ingredients are in the machine, and it will tell you which cocktails it can make. The app currently comes pre-programmed with over 2,000 drinks, along with the ability to easily customize your own.

"When I created this product, I thought a lot about how I could elevate the user drinking," said Akshet Tewari, Founder and CEO of Barsys. "Most people dont realize that when mixing cocktails -- like baking -- its extremely important to have the proportion just right. Now anyone can make delicious cocktails right in their homes. Plus, its a real crowd pleaser!"
Barsys is perfect for impressing party guests, discovering new drinks, and creating your own signature cocktails. The app is free to download -- allowing guests to order drinks from their own phones.
A B2B version is also available for lease or purchase by restaurants, bars, hotels, and other establishments. For businesses, the robotic bar reduces alcohol waste by distributing an exact pour every time. Barsys will never replace a good bartender, but can free them up to make more complicated drinks and interact with customers. Through the portal, businesses will also be able to track the popularity of different drinks, how much alcohol is consumed, and the rate of consumption at various hours of the day. The product also links with POS systems for a seamless consumer experience.
The product is now for pre-order, and will be shipping in October. To purchase, visit www.Barsys.io. Keep up with news and information by following on Instagram (@Barsys_cocktail) and Twitter (@BarsysCocktail).
Featured Product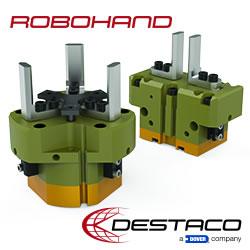 Automatically change end effector tooling quickly and easily with Destaco's Automatic Tool Changers. Designed with exceptional repeatability, high rigidity and load capacity, they are perfect for multiple tooling applications utilizing one robot. We offer different models and sizes to handle light-duty to heavy-duty applications. Our RQC/RTP Series provides a high level of flexibility with a configurable, modular design that accommodates up to four optional modular interfaces.