AlphaStep Hybrid Control System, AZ Series geared line-up expanded to include new right-angle gearhead.
Oriental Motor is pleased to expand the AlphaStep Hybrid Control System, AZ Series stepper motor product line-up with the introduction of the new Face Gear Type.

The new AZ Series FC Type stepper motor features a right-angle FC Type, commonly referred to as a "Face Gear." The name FC Face Gear derives from the motor pinion and face gear. It is a compact orthogonal shaft geared motor comprised of a disc-shaped gear (face gear) meshing with a spur gear.
The FC Face Gear Type right-angle gearheads slim size is ideal for compact and space saving applications, where high precision and high strengths are required. It is available with two cable orientation, in a 42 mm or 60 mm mounting face and in both AC input and DC input driver control. Optional electromagnetic brake type is also available.
The AlphaStep Hybrid Control System, AZ Series family of products is a leading closed loop, battery free absolute motion solution offering the best of open loop performance with closed loop control, allowing for advanced performance across a wide range of applications. All AZ Series products are available in pulse input or built-in controller (Network) types in AC or DC input. A DC input multi-axis controller / driver with EtherCAT is also available to connect up to 4 axes with one unit.
To learn more about Oriental Motors AZ Series family of products, contact the Technical Support group at 800-468-3982 or email, techsupport@orientalmotor.com, or visit the web page at:
https://www.orientalmotor.com/stepper-motors/closed-loop-absolute-stepper-motors-az-series.html
###
ABOUT ORIENTAL MOTOR
Since its founding in Japan in 1885, Oriental Motor has been a world leader in motion control systems. For over a century, we have concentrated on technological advancement and product design improvement — an emphasis evident in the sophisticated devices we market today.
Featured Product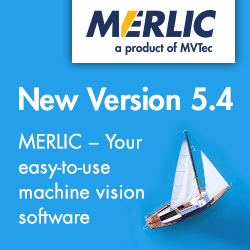 MVTec has launched the newest version 5.4 of its easy-to-use machine vision software MERLIC on Oct. 25. Its focus is on easier process integration. MVTec MERLIC 5.4 includes state-of-the-art machine vision technologies, plug-ins for direct communication with different PLCs and can be used to create complete machine vision applications. Try the new MERLIC 5.4 now!