Manufacturing

Marketing Partner
---

Oriental Motor Corp. USA
Since our founding in Japan in 1885, Oriental Motor globally has been providing the optimal motion systems as part of our total service, to meet the widest market demands. We manufacture and sell AC Motors, Stepper and Servo Motors, Linear and Rotary actuators, Network Solutions, Accessories and Thermal Management solutions. Oriental Motor's sales and service network is international, with offices throughout North America, Europe and Asia.
---
Mailing Address:
570 Alaska Avenue
Torrance, CA 90503
United States of America
Tel: 800-468-3982
Email: techsupport@orientalmotor.com
Website: http://www.orientalmotor.com/
Company Category: Factory Automation
Company Sector: Manufacturing
Keywords: brushless, stepper, servo, motors, fans, actuators
Partner Status: Marketing Partner
---
Products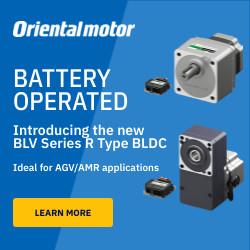 The BLV Series R Type brushless DC motor (BLDC motor) speed control system offers the design of motor and driver significantly reduced in size and weight, yet high-power, and contributes to the battery driven automation. The BLV Series R Type is compatible with the two interfaces of Modbus (RTU) and CANopen communication.
---
Articles
We will be introducing our new BLE2 Brushless Motor & Driver at this year's Pack Expo International show. We have two large demos, one showcasing the benefits of our speed control and another showcasing the benefits of position control, which saves money over servo systems.
Recent servo motors are equipped with the encoder of 20 bits (1,048,576 steps) which has a very fine resolution. Because of this, errors due to the encoder installation accuracy have a huge effect on stopping accuracy.
In recent years, there have been many demands for equipment with high productivity to have a system that retains positioning information, even after the main power supply is turned off.
---
White Papers
This Company does not currently have any White Papers
---
---