Bio-inspired, AI-based EBV (Event Based Vision) with ONBOARD reference system delivers drastic improvements in high-speed counting, real time tracking and vibration monitoring for greater productivity and equipment efficiency
PARIS - October 29, 2018 - Prophesee SA (formerly Chronocam), inventor of the most advanced neuromorphic vision systems, will unveil new capabilities for improving productivity and equipment monitoring in industrial applications at VISION 2018. Enabled by its patented, event-based machine vision technology, the company, a nominee for the VISION Award, is demonstrating advancements in critical machine vision use cases, such as ultra high-speed counting, real time tracking, man machine teaming and vibration monitoring for predictive maintenance, setting a new standard for efficiency and reliability in industrial automation.

The VISION event is held every two years and the 2018 edition runs from November 6-8 at the Messe Stuttgart, Germany.
Prophesee will host demonstrations in its booth in Hall 1, Stand I85. It will feature the latest capabilities of its recently introduced Onboard reference system. The system provides a guide for developers to optimally implement Prophesees neuromorphic vision technology for a variety of applications. Notably, the company has released performance and accuracy specifications for new use cases, including area monitoring, high-speed counting, vibration measurement, or real-time arc welding tracking. Systems that utilize Prophesees event-based vision save massive amounts of computational power, bandwidth, memory and energy.
Prophesee will also deliver a presentation at the shows Vision Technology Days track, providing an overview of the companys unique event-based approach to vision processing. That session will be held at 11:00AM on November 6 at Hall 1, Stand Z75.
Prophesees solutions are aimed at improving a wide range of industrial uses, including accelerating quality assessment on production lines; improving throughput, yield and overall productivity; positioning, sensing and movement guidance for robots to enable better human collaboration; and equipment monitoring (e.g. caused by vibration, kinematic deviations) for predictive maintenance and reduced machine downtime.
About Prophesee
Prophesee (formerly Chronocam) is the inventor of the worlds most advanced neuromorphic vision systems.
Prophesees patented technology breakthrough introduces a new computer vision paradigm based on how the human eye and brain work to dramatically improve the efficiency and intelligence of vision sensing and processing.
The companys event-based method selects only the most useful and relevant elements of a scene, drastically reducing the power, latency and data processing requirements imposed by traditional frame-based systems.
Prophesees sensors and camera systems open vast new potential in areas such as autonomous vehicles, industrial automation, IoT, security and surveillance, and AR/VR. Its solutions improve equipment efficiency, reliability efficiency and user experiences across a broad range of use models.
Prophesee was founded within iBionext Start-up Studio (Paris) in 2014 by Ryad Benosman, Bernard Gilly, Christoph Posch and Luca Verre. The quartet brings a strong combination of experience in image sensing, neuromorphic computing, VLSI design, entrepreneurship and business development.
Prophesee is based in Passage de linnovation in Paris, with local offices in China, Japan and USA, is driven by a team of 75 visionary and global engineers, holds more than 50 international patents and is backed by leading international investors including 360 Capital Partners, Supernova Invest, iBionext, Intel Capital, Renault Group, and Robert Bosch Venture Capital. More information can be found at www.prophesee.ai.
Featured Product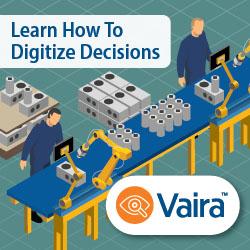 Pleora's AI Gateway simplifies the deployment of advanced machine learning capabilities to improve the reliability and lower the cost of visual quality inspection.