The market leader of collaborative robots is ready to launch unique new offerings for metal fabricators including plug and play integration with Dynabrade orbital sanders, ARC Specialties SnapCut, and new 7th axis capabilities from Vention. The new offerings are all integrated with e-Series, Universal Robots new flagship line.
Ann Arbor, MI, November 1, 2018: A traffic stopper at last years FABTECH was SnapWeld, the first integrated MIG welding system for collaborative robots. SnapWeld was developed by Universal Robot UR+ partner and Certified Systems Integrator ARC Specialties in Houston, TX, and will be showcased this year in a live demo at Universal Robots FABTECH booth C-12116 in an upgraded version compatible with URs just-launched e-Series line of cobots. A new offering this year from ARC Specialties is SnapCut exhibited at FABTECH in a pilot version coming soon to UR+, the platform for plug and play products certified for UR cobots. SnapCut allows traditional metal fabricators to easily cut shapes in 3 dimensional steel components with no prior robotic or computer programming knowledge. SnapCut utilizes the UR10e collaborative robot from Universal Robots to manipulate a Hypertherm cutting torch to desired positions around the cutting path. Included in the SnapCut software integrated directly on the UR robots teach pendant, are standard shapes like squares, rectangles, circles, or C-channels that can be selected for parametric programming. The operator will simply move the cutting torch to a few locations on the cutting surface, hit run and watch the sparks fly. "With SnapCut, we have developed a tool that allows metal fabricators to deploy UR cobots to cut non-standard positions on-location with near plasma table quality," says John Martin, Vice President with ARC Specialties. "Were providing an easy automation alternative to a process that today is primarily done manually."

Another manual task now addressed by cobots is sanding. FABTECH is the official launch pad for Dynabrades new robotic sander kit that just received UR+ certification. The kit includes pneumatic sanders, robot mount, and a solenoid enabling robotic operation via the UR teach pendant. "We are finding that many of our customers are interested in mounting our tools on robots," says Frank Lehman, Dynabrades Head of Engineering, emphasizing the benefit of providing Dynabrade users with a turn-key solution enabling them to mount the sanders on collaborative robots. "Cobots are very affordable and user-friendly, allowing our end users to bring automation into their workplace without the expense and
learning curve of traditional robots. With UR being the leader in the cobot industry, it was obvious to bring our sanders to the UR+ platform." For new deburring capabilities with cobots, manufacturers can now turn to ATI Industrial Automations new Compliant Deburring Blade (CDB) one of the most versatile tools for material removal. Intended to replace traditional hand deburring tools, the CDB excels in light and medium deburring, chamfering, and scraping operations on materials such as plastic, aluminum, steel, and brass. Axial and radial compliance reduce robotic programming time by maintaining constant force where surface irregularities are present. CDB will be showcased in URs FABTECH booth and is in the UR+ pipeline. The FABTECH show displays not only how capabilities of UR cobots widen with UR+ enabled tools, the physical reach of the robot arms are now improved through Vention's new 7th axis range extender designed for all three UR models, soon to be featured in the UR+ showroom too. "Were proud to contribute to the UR+ ecosystem with rapid design and commissioning of robot cells," says Patrick Halde, Vice President of Sales and Business Development with Vention. "Our new 7th axis solution can be controlled with Ventions MachineMotion controller directly through the UR cobots touch screen allowing users to assemble and self-commission in hours." Universal Robots Regional Sales Director for Americas, Stuart Shepherd, looks forward to showing the FABTECH audience the capabilities and applications now enabled with the new UR+ solutions. "Its exciting to see our partner network embracing our new e-Series cobots, incorporating them into cutting edge applications so quickly," he says. "Were confident the metal fabricating industry will deploy a significant number of e-Series cobots with certified UR+ products in the year to come."
Universal Robots will also be on display in the following FABTECH booths:
American Weldquip LLC - Booth C11322 UR10e with American Weldquips ArcSafe robotic welding torch system collaborative robot featuring the Robo-Quip robotic nozzle cleaning station. American Weldquip chose Universal Robots UR10e because it is only one of the few collaborative robot systems that can be used in welding applications, allowing operators to work alongside the cobots without the need for the usual safety guarding.
ARC Specialties - Booth C13462 UR10e integrated with SnapCut end-effector for plasma cutting applications. (See above).
ATI Industrial Automation - Booth C11522 UR 5 showcased with ATIs UR+ enabled MC-10 tool changer and Axia80 f/t sensor. Unlike load cells, which only operate on a single axis and measure only push, the Axia80 senses torque and side loads along all six axes.
Crum Manufacturing - Booth C10161 Crum Manufacturing will exhibit a UR3 with a Gocator 2330 from LMI Technologies demonstrating the ability to line track, profile scan and measure parts. The use of a laser profile scanner allows the robot to easily determine pick locations on randomized part positions. This also allows for easier part quality control, as the Gocator is able to measure the parts that the robot will be picking.
COB Industries/ HFT Booth C10871 COB Industries will display a UR3 in Huntingdon Fusion Techniques inert welding environment, that have grown very popular with the additive manufacturing industry who utilize the HFT inert environments in conjunction with robots to apply 3D printing techniques with specialty materials such as titanium and tantalum.
Innerspec - Booth C10523 UR3 integrated with TG-IL, Innerspecs latest generation of EMAT thickness measurement. The UR3 scans a non-contact EMAT UT transducer along the length of an aluminum tube, measuring wall thickness variations to +/-0.0001". TG-IL is housed in an IP54 industrial enclosure and is ready to be integrated into any industrial environment where automated thickness measurement is required.
Vention - Booth B5655 UR10e mounted on Vention's fully customizable 7th axis range extender (See above).
About Universal Robots Universal Robots was co-founded in 2005 by the companys CTO, Esben Østergaard - the 2018 Engelberger Award Winner - who wanted to make robot technology accessible to all by developing small, user-friendly, reasonably priced, flexible industrial robots that are safe to work with. Since the first collaborative robot (cobot) was launched in 2008, the company has experienced considerable growth with the user-friendly cobot now sold worldwide. The company, which is a part of Teradyne Inc., is headquartered in Odense, Denmark, and has subsidiaries and regional offices in the United States, Germany, France, Spain, Italy, Czech Republic, Turkey, China, India, Singapore, Japan, South Korea, Taiwan and Mexico. In 2017, Universal Robots had a revenue of USD 170 million. For more information, please visit www.universal-robots.com or read our blog at blog.universal-robots.com.
Featured Product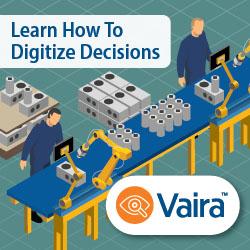 Vaira™ helps manufacturers digitize, automate, and upgrade error-prone manual processes and decisions to boost productivity and increase profits by helping humans make decisions consistent, reliable, and traceable. The camera-based solution is powered by a scalable suite of shop floor-ready apps built on proven machine vision and AI expertise for frontline manufacturing operations, with two-way integration to resource planning tools to help drive continuous analysis, insight, and improvements. Start digitizing immediately, streamlining processes customized to your unique requirements and reduce errors that lead to costs, delays, and quality concerns.