The dexterity and the level of automomy of Novarc's collaborative Spool Welding Robot has been dramatically improved with Novarc's launch of a new vision based software product called NovEye™. The NovEye™ uses machine learning to track the root pass with high accuracy, measure the root gap and detect the track (stitches) automatically enabling SWR operators to perform more welds while spending less time on each weld, without reducing the precision or risk of defects.
Novarc Technologies announced today the launch of a new breakthrough vision based software product called NovEye™ which increases the level of autonomy in Novarcs Spool Welding Robot (SWR) by an order of magnitude. NovEye™ uses machine learning to track the root pass with high accuracy, measure the root gap and detect the tacks (stitches) automatically.

Novarcs SWR was officially launched at FABTECH last year, and since then has become increasingly popular among fabricators due to its precision and dexterity, enhanced by these new features.
"With the NovEye™ software product and its features, our customers benefit from a higher level of autonomy with less risk of defects. The advantage with NovEye™ is SWR operators can now perform more welds while spending less time on each weld," says Soroush Karimzadeh, CEO of Novarc Technologies.
This advantage is made possible because the NovEye™ integrates artificial intelligence and machine vision with adaptive control in a complete package producing high quality full penetration 1G root pass welds with minimum operator involvement.
"This capability is exceptional in the industry and is a major milestone for us and our customers. For the first time, AI and machine learning are introduced to the fabricators shop floor and will have a meaningful impact on their bottom line. This is very exciting time for us as Novarc is at the forefront of the Industry 4.0 revolution with this unique offering," says Karimzadeh.
The company also announced the integration with the Miller Auto-Continuum™ power source with the SWR to allow customers to access familiar welding processes currently in use into their manual pipe welding process, including RMD and pulse process provided by Miller Electric.
"This integration will improve the learning curve and facilitate better buy-in from operation teams for shops who require a Miller power source in their shop," says Karimzadeh.
Both options as well as many new hardware features on the SWR - including EWR, 3-line Scansonic laser scanner, Masterline conduit, and software features such as pass tracking and advanced control options - will be available for demonstration at Novarcs booth #C13542 at FABTECH, November 6-8, 2018 in Atlanta, GA. The NovEye™ will be released in 2019 for existing and future customers.
ABOUT NOVARC TECHNOLOGIES:
Founded in 2013, Novarc Technologies is a robotics company specializing in the design and commercialization of collaborative robots for industrial applications. Novarcs Spool Welding Robot (SWR) is the worlds first pipe welding application. A proven pioneer in the field, Novarc has a dedicated team of robotic engineers, software developers, welders and scientists all eager to solve challenging industrial automation problems by working closely with pipe shops to improve customers bottom line.
Featured Product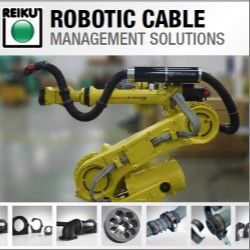 REIKU's Cable Saver™ Solution eliminates downtime, loss of revenue, expensive cable and hose replacement costs, maintenance labour costs. It's available in three sizes 36, 52 and 70 mm. All of the robots cables and hoses are protected when routed through the Cable Saver™ corrugated tubing. The Cable Saver™ uses a spring retraction system housed inside the Energy Tube™ to keep this service loop out of harms way in safe location at the rear of the Robot when not required. The Cable Saver™ is a COMPLETE solution for any make or model of robot. It installs quickly-on either side of the robot and has been tested to resist over 15 million repetitive cycles.