Industry first-mover and a 2018 Ernst & Young "Entrepreneur of the Year" MiR reached production capacity for the MiR500 in its first month and will double production in November
HOLBROOK, New York - November 7, 2018 - Mobile Industrial Robots (MiR) reached production capacity for its new MiR500 autonomous mobile robots (AMRs) in its first month. With plans in place to deliver all current orders by the end of 2018, including the 40 percent purchased by U.S. manufacturers, the Denmark-based robotics manufacturer and industry first-mover today announced it would double production of the MiR500 in November by hiring additional resources and optimizing production.

"We were blown away by the positive response we received from U.S. manufacturers when we first introduced the MiR500 at IMTS in September," said Ed Mullen, vice president - Americas, Mobile Industrial Robots. "The orders quickly followed, and were fulfilling them as fast as we can, so our customers can begin to realize the tremendous value the MiR500 offers over traditional forklifts when transporting heavy items and pallets."
Patrick Garin, CEO of Cabka North America, one of the largest manufacturers of plastic pallets, already sees this value. "This is a dream come true for us," he said. "We have big plans with this MiR500, from stacking our pallets coming out of our production lines on the MiR500 to preparing outbound deliveries at night when there is no activity in the warehouse."
MiR500 - a larger, stronger and safe mobile robot
First introduced at Automatica 2018 in Germany this summer, the MiR500 optimizes the transport of heavy items and pallets, with two flexible pallet lifts for the two most commonly used types of pallets: the EU pallet and the 40" x 48" pallet. The robot has a lifting capacity of 500 kg (1102 lbs) and can automatically collect, transport and deliver pallets.
The MiR500 incorporates the same innovative safety features as the rest of the MiR product line. Using MiR advanced technology and sophisticated software, the MiR500 can recognize obstacles in a 360-degree radius, allowing the robot to navigate autonomously via the most efficient route to its destination - even in dynamic environments where people and vehicles are moving.
The user interface matches that used in the MiR100 and MiR200, which already optimize production processes in many of the worlds biggest multinational companies, including Airbus, Flex, Honeywell, Hitachi and Danone. The difference is the MiR500s larger size, lifting capacity (1100 lbs.) and areas of application.
"To succeed in todays competitive market, a modern manufacturer must be more customized and flexible than ever, including in how it transports materials between production cells," said MiR CEO Thomas Visti. "Our mobile robots are ideal for that task, helping innovative manufacturers take their automation initiatives to even higher levels."
The Growth of MiR - and Logistics Robots Overall
According to the new International Federation of Robotics (IFR) report, release in October, the U.S. is the largest purchaser of logistics robots, with 60,577 of the 69,000 total logistics robots sold purchased here in the U.S. NOTE: While MiR robots are actually autonomous mobile robots (AMRs), not automated guided vehicles (AGVs), IFR includes MiR under the AGV umbrella for this report.
MiR has grown quickly since its founding in 2013, with sales rising by 500 percent from 2015 to 2016, and 300 percent from 2016 to 2017. A quarter of those sales traditionally come from the U.S. Since the beginning of 2018, MiR has grown from 55 employees to more than 125, with six added to its U.S. offices in Holbrook, New York, and San Diego, California. This growth is one reason MiR was awarded a 2018 Ernst & Young Entrepreneur of the Year in Funen on Oct. 31.
About Mobile Industrial Robots:
Mobile Industrial Robots (MiR) develops and markets the industrys most advanced line of collaborative and safe autonomous mobile robots (AMRs) that quickly, easily and cost-effectively manage internal logistics, freeing employees for higher-value activities. Hundreds of mid-sized through large multinational manufacturers, along with several hospitals and nurseries around the world, have already installed MiRs innovative robots. MiR has quickly established a global distribution network in more than 40 countries, with regional offices in New York, San Diego, Singapore, Frankfurt, Barcelona and Shanghai. MiR has grown quickly since its founding in 2013, with sales rising by 500% from 2015 to 2016, and 300% from 2016 to 2017. Founded and run by experienced Danish robotics industry professionals, MiR is headquartered in Odense, Denmark, and was recently acquired by American company Teradyne, the leading supplier of automated test equipment. Three years ago, Teradyne also acquired the Danish company Universal Robots. For more information, visit http://www.mobile-industrial-robots.com
Featured Product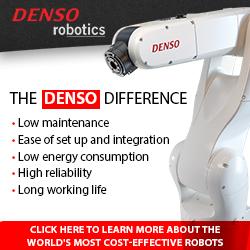 DENSO is the world's largest manufacturer - and user - of small assembly robots, employing over 17,000 of its robots in its own facilities. Over 77,000 additional DENSO robots are used by other companies worldwide. The compact, high-speed robots are used in traditional manufacturing sectors, as well as in advanced-technology applications in the medical, pharmaceutical and life sciences industries. Learn more about DENSO Robotics