The E4T miniature transmissive optical encoder is designed to provide digital quadrature encoder feedback for high volume, limited space applications. It offers higher maximum speed and increased output drive than previous models. The E4T utilizes an innovative, push-on encoder disk which accepts shaft diameters of 2.0mm to .250".
Our E4T Miniature Optical Kit Encoders Are Now Available at Higher Resolutions of 512 and 1,000 CPR

The perfect fit for motion control where space is limited.
We've got some great news about our smallest encoders. The E4T miniature optical encoders are now available at even higher resolutions than before! With two new CPRs of 512 and 1,000 we've successfully doubled the resolution while keeping the housing unchanged.
Utilizing state-of-the-art transmissive optical sensing technology, these newly announced resolutions now support applications requiring up to 4,000 pulses per revolution. This substantial increase in resolution was achieved without any compromise to package form factor, electrical characteristics or output signal robustness. The E4T line of encoders is available in both single-ended and differential signal outputs for applications where noise immunity is critical. Moreover, the 512 and 1,000 CPR options retain the E4T's simple and efficient, push-on hub disk assembly process, helping US Digital customers keep installation time, assembly cost and complexity to a minimum.
Where space is limited, the E4T miniature optical encoders are the perfect fit for motion control. Get details at: usdigital.com/E4T
Featured Product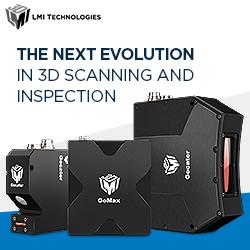 Every robot needs eyes to see, think, and do. Gocator® 3D smart sensors add powerful vision-guidance and inspection capability to industrial robots. You can use these sensors in a wide variety of factory automation applications. Pair them with scara, delta, and collaborative robots to create complete robotic solutions that deliver high-performance 3D results in vision-guidance, quality control inspection, and automated assembly with smart pick-and-place. Make your robot FactorySmart® with Gocator 3D smart sensors.