BrainOS® featured in new commercial robot for the Japanese market
Brain Corp, an AI company specializing in the development of self-driving technology for robots, announced today that it is powering autonomous capabilities in a new product launched by SoftBank Robotics.

The product, an autonomous vacuum cleaner, has been designed specifically for use in commercial spaces such as retail and office environments. Sales are slated to begin in 2019 and will focus initially on the Japanese market. The vacuum will be powered by BrainOS, Brain Corp's proprietary operating system.
Earlier this year, Brain Corp announced entry into the Japanese market with an application in large-scale, industrial floor scrubbers. The newly announced vacuum product, while also in the cleaning space, will be significantly smaller in size than the machines BrainOS has supported in the past.
"This effort with SoftBank Robotics represents an important milestone in our company's development," says Brain Corp co-founder and CEO, Dr. Eugene Izhikevich. "BrainOS is now powering numerous robots of different sizes and use cases, thereby proving that BrainOS has the capability and flexibility to effectively automate any mobile machine. On top of that, this vacuum's robotic drive system can be leveraged by Brain Corp's partners to create additional BrainOS-powered robots in applications like delivery, security and healthcare, just to name a few. We look forward to continuing to work with SoftBank Robotics and extending the reach of BrainOS into Japan and around the world."
BrainOS, Brain Corp's award-winning AI platform, comes fully integrated with automated driverless technology. Users can easily train a route and then activate driverless floor cleaning with the press of the "Blue Autonomy" button. The self-driving machine uses multiple sensors to scan its surroundings for people and obstacles, providing the industry's highest level of safety and performance.
"SoftBank Robotics is pleased to add to its product portfolio with the announcement of this new, commercial application," says SoftBank Robotics CBO, Kenichi Yoshida. "Brain Corp's best-in-class technology has allowed us to effectively bring multiple robotic solutions to the Japanese market, and we look forward to continuing to innovate and lead together."
About Brain Corporation
Brain Corporation (Brain Corp) is a San Diego-based AI company specializing in the development of intelligent, autonomous navigation systems for everyday machines. The company enables the rollout and scalability of robotics solutions by partnering with commercial equipment manufacturers and key technology providers. Brain Corp is funded by the SoftBank Vision Fund and Qualcomm Ventures. For more information or to access videos of its robots, please visit www.braincorp.com.
About SoftBank Robotics
SoftBank Robotics is driving technology forward by becoming a worldwide leader in robotics solutions. With more than 500 employees working in Paris, Tokyo, San Francisco, Boston and Shanghai, SoftBank Robotics is constantly exploring and commercializing all robotics solutions that help make people's lives easier, safer, more connected, and more extraordinary. There are currently over 25,000 SoftBank Robotics robots, Pepper and NAO, used in more than 70 countries worldwide which offer innovative applications relevant for the fields of retail, tourism, healthcare, finance and education. To learn more about SoftBank Robotics, go to www.softbankrobotics.com.
Featured Product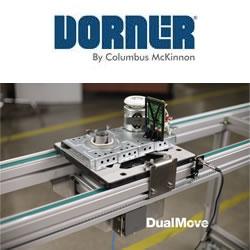 Dorner's 2200 Series Precision Move Pallet Systems are ideal for assembly automation. With features such as an innovative timing belt conveyor design and industry best pallet transfers, they get your product to the exact location, at the exact time and in the exact position it needs to be. They are now available with new options such as heavy load corner modules with 150 lb. capacity and 180 degree tight transfer corners for compact loops.