Teknisk Ukeblad, NITO, Tekna, Polyteknisk Forening name Zivid as Norways most important technology company 2018.
OSLO, Norway, November 29, 2018 - Zivid, the color 3D machine vision camera company, won recognition as Norways most important technology company for its innovative engineering, technological achievements, and social impact at the annual Norwegian Tech Awards event on November 28.

Zivid was chosen by public votes in conjunction with an independent jury with members from Norways leading technology clusters and companies. The jury highlighted Zivids cutting edge technology combined with its wide potential for use, including a variety of industrial automation applications such as picking, logistics, and inspection.
"We are deeply honored to receive the Norwegian Tech Award for 2018," said Thomas Embla Bonnerud, CEO of Zivid. "Bringing Zivids flagship 3D color technology to customers and partners in this new and globally growing market is a key driver, and being recognized for our years of research and product commercialization on our home turf is a big boost for the whole team."
In November 2018, Zivid expanded its portfolio of 3D color cameras and introduced the Zivid One Plus family. The new camera models enable and enhance more industrial automation and robotics applications for highly detailed, tiny objects at close range to large objects at longer ranges. Learn more about Zivid One Plus portfolio on zivid.com/zivid-one-plus.
Norwegian Tech Awards is an annual event where Norways leading technology magazines, unions and non-profits meet to celebrate the most innovative companies, technologies, and people. The Tech Award is presented by Tu.no, Tekna, and NITO in collaboration with the Polytechnical Society.
About Zivid
Zivid is a market-leading provider of 3D machine vision cameras and software for next generation robotics and industrial automation systems. Its Zivid One and Zivid One Plus products are regarded as the worlds most accurate real-time 3D color cameras and bring human-like vision to the smart factories and warehouses of Industry 4.0.
With more than two decades of in-house R&D and in-depth expertise in optical sensors, 3D machine vision hardware and software, Zivid enables customers to boost efficiency and productivity in a range of applications including de-palletizing, bin-picking, pick-and-place, assembly, packaging and quality control.
The Zivid One 3D color camera has received numerous awards for its technical features, quality of data (QoD), and design implementation. Awards include "Top Innovation Award" by inVISION Magazine, "Gold Innovators Award" by Vision Systems Design, Red Dot's "Product Design" award, and the Research Council of Norway's prestigious "Innovation Award".
To discover how Zivid is shaping the future of 3D machine vision visit www.zivid.com.
Featured Product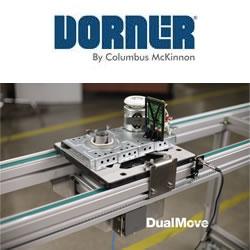 Dorner's 2200 Series Precision Move Pallet Systems are ideal for assembly automation. With features such as an innovative timing belt conveyor design and industry best pallet transfers, they get your product to the exact location, at the exact time and in the exact position it needs to be. They are now available with new options such as heavy load corner modules with 150 lb. capacity and 180 degree tight transfer corners for compact loops.