SSL congratulates NASA for arrival of InSight, celebrates fifth SSL-built robotic arm for Mars
SSL, a Maxar Technologies company (NYSE: MAXR) (TSX: MAXR), and a leading provider of innovative satellites and spacecraft systems, congratulates NASA on the successful touchdown of its InSight Lander on Mars following its six-month interplanetary voyage from California. The lander is equipped with a highly capable robotic arm built by SSL Robotics in Pasadena, Calif., which has begun to perform mission-critical operations in support of NASA's goal to study Mars' deep interior. The mission underscores SSL's long legacy as a trusted contractor to NASA, having provided all five of the robotic arms used on Mars.

InSight, which stands for Interior Exploration using Seismic Investigations, Geodesy and Heat Transport, will collect seismic, rotational, and thermal measurements to determine the present level of tectonic activity on Mars. Data of this sort is critical to understanding the processes that formed the rocky planets of the inner solar system approximately 4.5 billion years ago.
The SSL-built Instrument Deployment Arm is a lightweight, four-degree-of-freedom, two-meter class robotic arm, with joints at the shoulder, elbow, and wrist. It has the mission-critical job of placing the lander's sensitive instruments onto the dusty Martian surface, a process that future landers are expected to repeat when offloading payloads onto the surface of the Moon. The lander's instruments include a seismometer capable of detecting Marsquakes and a heat flow probe that will burrow as deep as 16 feet into the ground.
"SSL is committed to providing innovative space systems that build a better world and advance humankind's understanding of the universe," said Richard White, president of SSL Government Systems. "SSL has a long and successful history as a trusted supplier to NASA and JPL, and we're delighted that the SSL-built robotic arm on InSight is beginning operations."
SSL's long history of accelerating innovation for advanced space robotics began well before InSight. The company has built every robotic arm used on the surface of Mars, including:
Curiosity rover, launched in 2011 to explore Gale Crater;
Phoenix lander, launched in 2007 to study the history of water in the Martian arctic and search for evidence of a habitable zone;
Spirit and Opportunity rovers, which were launched in 2003 to search for answers about the history of water on Mars.
SSL is also building the Sample Handling Assembly robotic arm for NASA's Mars 2020 rover. The arm is degined to provide extreme accuracy under severe temperature variations within a dusty and dirty environment.
For more information on SSL's contribution to the InSight mission, visit the SSL blog.
About SSL
SSL, based in Palo Alto, California, is a leading provider of advanced spacecraft systems, with broad expertise to support commercial and government satellite operators and innovative space missions. The company designs and manufactures spacecraft for services such as direct-to-home television, video content distribution, broadband internet, mobile communications, in-orbit servicing, space exploration, and Earth observation. As a Silicon Valley innovator for 60 years, SSL's advanced product line includes state-of-the-art small satellites, and sophisticated robotics and autonomous solutions for remote operations. SSL is a Maxar Technologies company (NYSE: MAXR) (TSX: MAXR). For more information, visit www.sslmda.com.
About Maxar Technologies
As a global leader of advanced space technology solutions, Maxar Technologies is at the nexus of the new space economy, developing and sustaining the infrastructure and delivering the information, services, systems that unlock the promise of space for commercial and government markets. As a trusted partner, Maxar Technologies provides vertically integrated capabilities and expertise including satellites, Earth imagery, robotics, geospatial data and analytics to help customers anticipate and address their most complex mission-critical challenges with confidence. With more than 6,500 employees in over 30 global locations, the Maxar Technologies portfolio of commercial space brands includes MDA, SSL, DigitalGlobe and Radiant Solutions. Every day, billions of people rely on Maxar to communicate, share information and data, and deliver insights that Build a Better World. Maxar trades on the Toronto Stock Exchange and New York Stock Exchange as MAXR. For more information, visit www.maxar.com.
Featured Product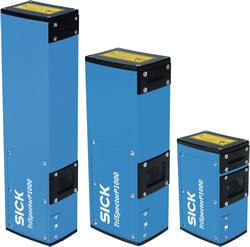 LiDAR (Light Detection and Ranging) is one of the most reliable methods for parts sensing in factory automation today. SICK has made this technology affordable and easy to use! Click on the video link below to learn about the TiM1xx LiDAR sensor and how it provides: - Area scanning LiDAR technology in a standard sensor package - 200-degree field of view and 3 meter sensing range allows for 169 square feet of area scanning - Compact size and light weight enables ease of deployment in "non-standard" type applications, like end-of-arm robotic tooling - Wide area scanning without having to mount a transmitter and receiver makes installation much easier - IO Link for easy configuration