The TrolleyBOT robot will be showcased at CES Las Vegas 2019, Eureka Park, Booth 50003-6
Occasionally, at the end of the day, it becomes harder for the deliverers and logisticians to carry all the packages they have. This is why the French company Sterela designed TrolleyBOT, an autonomous robot, particularly "agile" and efficient, that responds with great maneuverability and flexibility to various indoor and outdoor applications: logistics, maintenance assistance, picking etc. TrolleyBOT can offer its services in multiple fields. Moving at a maximum speed of 12 km/h and with total load carrying capacity 150 kg (330lbs), TrolleyBOT is the perfect mobile robotic platform for the "last mile delivery", order picking, the transport of hand-tools or even surveillance and control activities.

An autonomous robot for heavy loads!
TrolleyBOT is an autonomous mobile robotic platform designed for a large scope of applications, from logistics & picking (e-commerce platforms, retails, drives), to collaborative maintenance and various control activities. It functions either in a fully autonomous or in "follow-me" mode, by following only the authorized user. TrolleyBOT's uniqueness lies in its intelligence to detect and safely avoid obstacles.
It moves at a maximum speed of 12 km/h and both its speed and the distance of the person to follow is controlled remotely.
With the ability to transport heavy loads up to 150kg (330lbs), TrolleyBOT was developed in order to respond to a wide range of, both indoor and outdoor businesses needs in e-commerce, logistics, transport, delivery, where agility, manageability and flexibility are essential.
The first clients!
Finalized in the Sterela workshop in May 2018, TrolleyBOT is currently being tested at the Airbus Hangars in order to support the work of DSI society employees. Since then, numerous demonstrations have taken place for: DHL, the French Post Office, Airbus Industry and Chronodrive. This small but functional robot seems to have easily established its place in various fields and the requests do not cease to come. 4Mob flexi and 4Mob mule, other products in the range, respond to the needs of the construction industry, the logistical support on 4x4 terrain and the heavy material transport, as they carry up to 350 kg (771lbs) and towing capacity 700kg (1543lbs) (Engie, SNCF, French Army).
About Sterela Robotics:
Sterela Robotics is a Sterela's group division. For more than 37 years now, Sterela is developing solutions and innovative products in 5 Strategic Business Units (SBU): ITS, Defense, Meteorology, Aeronautics and Robotics.
These 5 SBU offer their services at both national and international level, making thus Sterela a global provider of solutions and innovative products.
The trust that partners and clients have shown to us for almost 40 years now, is an undeniable statement that the savvy and technological expertise are on the top of the innovation. The quality of the services and the products is well-known, as the company benefits the ISO 9001-2008 norm for almost two decades now. Sterela relies on a significant R & D program which represents more than 12% of its turnover and ensures that it will continue to develop and always introduce the best innovative products.
http://www.delrobotics.com/
Featured Product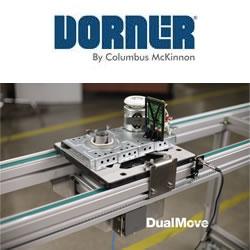 Dorner's 2200 Series Precision Move Pallet Systems are ideal for assembly automation. With features such as an innovative timing belt conveyor design and industry best pallet transfers, they get your product to the exact location, at the exact time and in the exact position it needs to be. They are now available with new options such as heavy load corner modules with 150 lb. capacity and 180 degree tight transfer corners for compact loops.