Robotics Innovator Also Unveils New Teleoperated Robotic Arms
OhmniLabs (https://ohmnilabs.com/), a Silicon Valley-based robotics company, today announces the launch of its new Ohmni Supercam Telepresence Robot at the 2019 Consumer Electronics Show (CES).

One of the biggest challenges for using telepresence robots is the ability to clearly see content on whiteboards and and printed documents, especially in the classroom or during meetings. The new Ohmni Supercam contains the highest resolution camera available in a telepresence robot. Combined with OhmniLabs' new Streaming Snapshot feature, users can take 13MP (4208 x 3120) snapshots anytime in-call. The snapshots are instantly streamed straight to the browser and can be zoomed in for incredible detail making the sharing of information easy, efficient and clear.
The new Supercam robot is currently available for orders at the price of $1,995 and will ship in mid-January. For specifications on the new product, please visit http://events.ohmnilabs.com/ces2019.
"The ability to read a handout or actually see what is written on the board is game-changing for anyone using telepresence robots. We're thrilled to bring Supercam to market and transform how people stay connected," said Jared Go, co-founder and CTO of OhmniLabs. "We also predict that it will enhance the ways telepresence can be applied in new industries, such as health care and manufacturing."
In addition to showcasing the new Supercam robot, the OhmniLabs team will demo new robotic arms on its current Ohmni robot. The arms are designed for ultra high strength-to-weight making them safe and precise. The arms are made of carbon fiber and use Ohmni's backlash-free cable drive technology. OhmniLabs VR control system makes it easy for you to teleoperate and train the robot's arms for automated tasks.
To visit the OhmniLabs team at CES for a demo of both new products, stop by Booth #42152 in the Accessibility Area, Smart Home floor at the Sands Convention Center in The Venetian Hotel.
OhmniLabs' co-founder and CEO, Dr. Thuc Vu, will speak on the RoboBusiness panel at CES in the LVCC, North Hall, N262 on Thursday, January 10 at 2:15-3:15 PM.
About OhmniLabs
Founded in 2015 and based in Silicon Valley, CA, OhmniLabs believes in the positive impact robots can make on people's everyday lives, and is committed to accelerating the robotic development process. Led by robotics experts from Carnegie Mellon and Stanford University, the team is re-inventing traditional robotics development through scalable lean manufacturing with 3D printing. Our flagship product, Ohmni, is an award-winning telepresence robot that transforms how people communicate in various environments, from classrooms, nursing homes, to hospitals and offices. For more information, please visit https://ohmnilabs.com/
Featured Product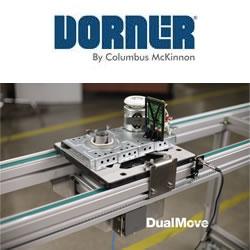 Dorner's 2200 Series Precision Move Pallet Systems are ideal for assembly automation. With features such as an innovative timing belt conveyor design and industry best pallet transfers, they get your product to the exact location, at the exact time and in the exact position it needs to be. They are now available with new options such as heavy load corner modules with 150 lb. capacity and 180 degree tight transfer corners for compact loops.