SMi reports: Unmanned Maritime Systems Technology returns to London for its 3rd successful year, on 8th and 9th May 2019
As technology and innovation continue to push the boundaries of operational capabilities in Naval warfare, Unmanned Maritime Systems Technology 2019 will be a crucial forum for the discussion of current and future projects and programmes delivering unmanned and autonomous technology for modern Navies.

The 2019 event will provide holistic coverage of unmanned systems across the full maritime domain, including undersea, surface, and aerial environments. The conference taking place on the 8th and 9th May 2019 in London will bring together key planners and decision makers from across the NATO-aligned world who will have discussions on the following key topics:
• Anti-submarine warfare
• Aerial unmanned maritime systems
• Autonomy in mine countermeasure operations
• Developing joint interoperability across unmanned systems
• Updates on key unmanned platform programmes
• The future of unmanned capabilities
Download the preliminary agenda at http://www.umsconference.com/roboticstomorrow
The past attendees of the two-day event include:
Aeronautics, ASV, Atlas Elektronik UK, BAE Systems Surface Ships Ltd, Boeing Defence UK Ltd, Canadian High Commission, Capability Acquisition and Sustainment Group, Current Scientific Corporation, Egyptian Defence Office, Elbit Systems UK, Embassy of Brazil, ESG Elektroniksystem- und Logistik-GmbH, European Union Operation HQ, FFI, Finnish Defence Research Agency, FMV, FN Herstal, Fr. Fassmer GmbH & Co. KG, German Aerospace Center, German Navy, High Commission of Sri Lanka, Hydroid Inc, Imperial College Of Science And Medicine, Inmarsat, Intrepid Minds Ltd, Italian Navy, L3 Technologies, Leonardo, Maritime Capabilities, Montpellier, National Oceanography Centre, NATO Combined Joint Ops from the Sea Centre of Excellence (NATO CJOS COE), NATO MARCOM, NATO MCM Centre of Excellence, Netherlands Defence Materiel Organisation, NOAA: National Oceanic & Atmospheric Administration, Northrop Grumman, Ocean Matrix Ltd, ONR Global, Optics11, OSI Maritime Systems, Polish Navy, Radley Consulting, Rafael, Rolls Royce Naval, Royal Australian Navy, Royal Navy, Royal Netherlands Navy, Saab Ab, Saudi Aramco, SEA Ltd, Seastema, SeeByte Ltd, Sirehna, Southampton University, Spanish Navy, STX France, Teledyne Gavia, Textron Systems, Thales UK, The Boeing Company, The United Kingdom Hydrographic Office, TNO, UAE GHQ, UK MoD (DSTL, DE&S), Ultra Electronics Command & Sonar Systems, UMS Skeldar AG, United Kingdom Hydrographic Office, United States Embassy, University of Sheffield, University of Southampton, and US Navy.
Registration is now open and there is an early bird offer available until 31/01/19 to save £400 on your booking. To book your place, visit http://www.umsconference.com/roboticstomorrow
Unmanned Maritime Systems Technology conference
8th and 9th May 2019
Holiday Inn Kensington Forum
London, United Kingdom
Gold Sponsor: Leonardo
For sponsorship and exhibition queries, please contact Justin Predescu on jpredescu@smi-online.co.uk.
For telesales queries, please contact James Hitchen on jhitchen@smi-online.co.uk.
For media queries, please contact Natasha Boumediene at nboumediene@smi-online.co.uk.
---- END ----
About SMi Group: Established since 1993, the SMi Group is a global event-production company that specializes in Business-to-Business Conferences, Workshops, Masterclasses and online Communities. We create and deliver events in the Defence, Security, Energy, Utilities, Finance and Pharmaceutical industries. We pride ourselves on having access to the world's most forward thinking opinion leaders and visionaries, allowing us to bring our communities together to Learn, Engage, Share and Network. More information can be found at http://www.smi-online.co.uk
Featured Product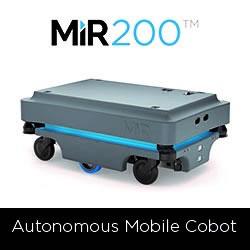 MiR200 is a safe, cost-effective mobile robot that automates your internal transportation. The robot optimizes workflows, freeing staff resources so you can increase productivity and reduce costs. MiR200 safely maneuvers around people and obstacles, through doorways and in and out of lifts. You can download CAD files of the building directly to the robot, or program it with the simple, web-based interface that requires no prior programming experience. With its fast implementation, the robots offers a fast ROI, with payback in as little as a year.