Swedish start-up Furhat Robotics has been announced as one of the finalists of SXSW's Interactive Innovation Awards.
Stockholm, January 22, 2019: Swedish start-up Furhat Robotics has today been announced as one of the finalists of SXSW's Interactive Innovation Awards. Competing in the Robotics and Hardware category, the awards, which cover 13 different competition categories, celebrate the most forward-thinking developments in the connected world.
In a year which saw Furhat Robotics launch a market-ready social robot, demonstrating significant advances in the field of humanlike robots and conversational Artificial Intelligence, and sign deals with a number of leading brands including Merck and TNG, this nomination is testament to the growing understanding that social robots can bring significant benefits to society.
In June 2018, creators from around the globe were asked to submit their most innovative digital projects, all vying for top honours in this unique and long-running competition. Chosen from thousands of entries, the 65 finalists, five in each category, will demonstrate their projects with the winners announced at the annual SXSW Interactive Awards Ceremony, which takes place on March 11, 2019. SXSW attendees will also be given the opportunity to vote for their favourite finalist in the People's Choice Award.
Samer Al Moubayed, CEO Furhat Robotics, said: "We are thrilled to have been selected as a finalist in what is one of the most prominent innovation awards in the digital industry. Not only does this recognition highlight all of the progress we have made in the last year, but it demonstrates that social robots have a very real role to play. From heavy industry and retail to health care and education, companies, developers and designers are realising that creating humanlike personalities and facial expressions for robots can provide huge advantages in customer service, training, learning and much more. We're proud to be at the forefront of this technology revolution."
Ends -
For more information, please contact:
Julia Herd, Five in a Boat: jules@fiveinaboat.com; +44 7787 225335
Notes to Editors
Furhat Robotics is a Conversational AI and Social Robotics start-up that has developed the world's most advanced social robotics platform. The vision of the company is to build a human-like computer interface that enables people to interact with machines in the same way that humans interact with each other. Based in Stockholm, Sweden and born out of a research project at KTH, Furhat has already won many scientific and innovation awards. The company currently works with over 70 international businesses and development agencies, spanning multiple industry sectors including recruitment, entertainment, transportation and finance.
Featured Product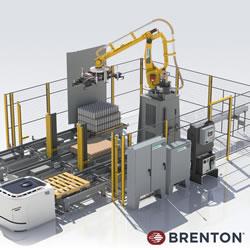 Brenton is a leader in robotic solutions with standard product offerings including palletizing and depalletizing for efficient an option for carrying hard-to-handle products, as well as larger scale systems with an optimized footprint; and case and carton loading solutions for numerous industries. In addition, Brenton works with customers on integrated solutions, offering robotics in a broad spectrum of robotics to fully integrate end of line systems. Brenton helps packaging customers protect their reputation and grow the trust of their consumers.