Silicon Valley Association for Unmanned Vehicle Systems International Hosting Industry Heavy Hitters In UAM, Drones, Remote ID, Venture Capital and more for All About Autonomy 2019 - Feb 28 - 3/1.
The Silicon Valley Association for Unmanned Vehicle Systems International has announced a two day symposium on February 28 - March 1, 2019 that'll bring together the brightest minds in the unmanned industries to discuss the future of autonomy, and the latest industry updates. The All About Autonomy Symposium will host industry change-makers from around the world.

This symposium is a unique opportunity for industry and press to have access to these panelists and presenters. Industry leaders will discuss the most pressing issues related to autonomy in society on several panels including: Drones for Good Guys, Remote ID and Securing Autonomy, VC Perspectives, and Innovation Public Private Partnerships. Keynote speakers for this event include Parimal 'PK' Kopardekar of NASA and Anil Nanduri, of the Intel Corporation.
Mr. Nanduri is the Vice President and General Manager of Intel's Drone Group. Intel broke it's own world record yesterday at Superbowl LIII, directing 150 enhanced Shooting Star drones to float up and over the field during the live Pepsi Halftime Show. The Intel Corporation plans to donate one of their legendary "Shooting Star" drones to the Hiller Aviation Museum during the Silicon Valley Chapter's All About Autonomy Symposium 2019.
The Innovation Public Private Partnerships panel will focus on how organizations like Zee Aero, ASSURE, Uber, and AT&T accomplish their goals through innovative partnerships. Panelists include Dr. Tom Prevot, Director of Engineering for Airspace Systems at UBER, Stephen 'Lux' Luxion Executive Director ASSURE, and Tom Gunnarson, Lead of Regulatory Affairs for Kitty Hawk & Zee Aero.
Art Pregler, Director of Strategic Initiatives at AT&T, Director of AT&T's Drone Program and Mobility Tower Safety Program (FirstNet) has also been added to the program. Jennifer Richter, Partner at Akin Gump and subject matter expert with the FCC's Technological Advisory Council on UAS and DHS's CIPAC that is studying how to protect critical infrastructure from drones. For the CTIA/NASA UAS Working Group, Jennifer is active with members, the FCC and the FAA on spectrum solutions for UAS.
Drones for Good Guys will be moderated by David Hansell, Public Policy Manager, DJI. His panel will consist of industry change-makers like VP of Precision Integrated Programs Matt Parker, Timothy Bennett of DHS, Roy Shrout, Deputy Director of the Fairfax County Virginia Office of Emergency Management and Tom Madigan, Commander at the Alameda County Sheriff's Office, whose department famously assisted in mapping the historic Camp Fire.
VC Perspectives will feature industry experts including R. 'Buddy' Arnheim, Partner and Co-chair, Emerging Companies and Venture Capital at Perkins Coie, Greer Carper, Investment Principal for Boeing HorizonX, Srinivas Ananth, Investment Manager at Intel Capital and moderator Mark Aitken II, Senior Policy Advisor at Akin Gump.
Speakers addressing Remote ID and Securing Autonomy include moderator Gabriel Cox, Drone System Architect and Global UAS ID Lead for Intel Corporation and Chairman of the Remote ID Working Group, ASTM. Panelists from Project Wing, Amazon, BloxDB and Ariascend will round out this panel of industry thought leaders.
Symposium attendees will also have a chance to view hardware including displays by Sabrewing, Intel and a Lockheed Martin Stalker XE drone provided by Precision - just to name a few.
This event will take place in Silicon Valley at the historic Hiller Aviation Museum in San Carlos, California. The venue sits adjacent to San Carlos Airport - KSQL. Symposium attendees will also have full access to the museum, a large indoor drone cage to test your drone piloting skills, and a networking reception featuring a tasting of California wines. Tickets are on sale now, and more information can be found at UTM3.com.
Featured Product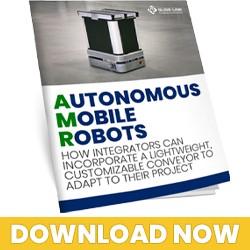 This eBook covers Glide-Line's conveyor attachments built specifically for AMRs. We go through the many variables that integrators are looking for in a cost-efficient AMR conveyor design, like: - lightweight, yet powerful - high flexibility & configurable -durability & dependability - DC-driven. At Glide-Line we solve problems that other conveyor manufacturers won't: simplicity - easy to maintain,flexible configurability, creating an efficient, hassle-free customer experience - customizations are normal to meet your needs.