SMi Group reports: Key decision makers to present on the latest developments in soldier modernization at Future Soldier Technology USA in June 2019.
With the US Army and Marine Corps in the midst of an enormous modernization effort, in line with the creation of US Army Futures Command and the DoD Close Combat Lethality Task Force, SMi Group are delighted to present Future Soldier Technology USA, taking place in Arlington, June 24 and 25 2019.

The two-day conference will be highly informative with expert led presentations on the latest developments in soldier modernization from key decision makers at the heart of the world's best military.
SMi Group are pleased to have Colonel Elliott Caggins, Project Manager Soldier Weapons, PEO Soldier, presenting on "Next Generation Weapon Systems for the Dismounted Soldier: Increasing Range and Accuracy'. Topics to be discussed include:
• Enhancing individual and crew served weapons for lethality overmatch
• The Next Generation Squad Weapon and Squad Designated Marksman rifle: Increasing range, accuracy, and lethality for infantry squads
• Boosting small arms firepower through the modular handgun system (MHS), with enhanced laser and light-based aiming
• Increasing efficiency through wireless fire control, improving loading and ammunition integration
• Testing and fielding the latest weapons and weapon technology
At the Picatinny Arsenal in New Jersey, Colonel Caggins described the NGSW program as a "revolution in small arms" on par with what the iPhone did to consumer electronics...
Colonel Elliott Caggins stated, "Imagine that Steve Jobs and his engineers were trying to convert the iPod Touch to the first 3G iPhone," said Army Col. Elliott Caggins, project manager for soldier weapons. "There were a thousand technologies they could have put in the first iPhone but they were looking to mature the platform before they could actually go onto the system." (Source: Task & Purpose, Feb 2019)
The full two-day agenda will be released soon, until then, visit the website to request a copy at http://www.futuresoldierusa.com/roboticstomorrow
Future Soldier Technology USA is the only event in North America focused solely on Soldier and Marine equipment modernization and capability development.
The highly anticipated event will bring together a community of senior military leaders, program managers, and researchers at the forefront of delivering enhanced soldier capabilities, from the US and beyond.
There is a $400 Early Bird Discount expiring on March 29, 2019. Places can be reserved at http://www.futuresoldierusa.com/roboticstomorrow
US DoD representatives can pre-register for free admission to the conference, which is subject to final approval.
Lead Sponsor: Glenair
Gold Sponsor: Leonardo DRS
Sponsor: Secubit
For sponsorship and exhibition packages available, contact Sadia Malick on +44 (0) 20 7827 6748 / smalick@smi-online.co.uk
For delegate enquiries, please contact James Hitchen on +44 (0) 20 7827 6054 / jhitchen@smi-online.co.uk
Future Soldier Technology USA Conference
Hilton Arlington, Virginia
June 24th & 25th 2019
-----END-----
About SMi Group: Established since 1993, SMi Group is a global event-production company that specializes in Business-to-Business Conferences, Workshops, Masterclasses and online Communities. We create and deliver events in the Defence, Security, Energy, Utilities, Finance and Pharmaceutical industries. We pride ourselves on having access to the world's most forward-thinking opinion leaders and visionaries, allowing us to bring our communities together to Learn, Engage, Share and Network. More information can be found at http://www.smi-online.co.uk
Featured Product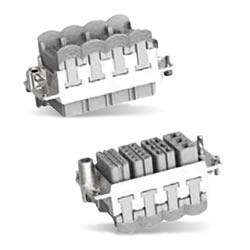 TE Connectivity's HDC Dynamic Module integrates the Dynamic series flexible signal and power solutions and the HDC Heavy Duty Connector series to form a solution of harsh environment connectors. TE's HDC Dynamic Module offers the top features of the two series. It uses the contact concept of the Dynamic series, with its proven performance in industrial uses and its cost effectiveness compared to legacy cutting contacts. The HDC connectors make the module a reliable solution for harsh environments. TE's HDC Dynamic Module supports 2A/32V to 40A/300V performance and 3 positions to 48 positions.