A smart production line will simulate robots and mobile robot systems working in collaboration with humans to optimize production
DUNCAN, S.C. (February 20, 2019) - Stäubli, a leading manufacturer of textile machinery, quick release couplings and robotics systems, will bring the factory of the future to life at Automate 2019, scheduled to be held at McCormick Place in Chicago, April 8-11.

Stäubli (booth #7150) will unveil products new to the North American market including its new line of TS2 SCARA robots and HelMo, Stäubli's mobile robot system. The company also will exhibit a smart production line to showcase how connected robotic solutions can collaborate with humans in an Industry 4.0 setting. Industry 4.0, the integration of digital technologies and automated processes, is transforming production for industrial players, accelerating the convergence of the virtual and real worlds.
Interconnected robots enable machine-to-machine communication and the exchange of data between devices. Stäubli experts will demonstrate how its solutions can transform big data into smart data to optimize processes and change manufacturing scenarios for greater cost-effectiveness and flexibility.
"Stäubli's vision for the factory of the future is built on interconnected devices that operate collaboratively with humans to improve efficiency and the quality of goods," said Sebastien Schmitt, Robotics Division Head of Stäubli North America. "A disruption in the supply chain, for instance, can affect how and when goods need to be produced and Industry 4.0 solutions inform our production to make it smarter and more responsive. At Automate, we will demonstrate how Stäubli North America offers innovative solutions that are changing the way industrial manufacturers do business."
Automate 2019 will mark the North American premiere of Stäubli Robotics' new TS2 SCARA robots. These completely redesigned four-axis machines offer incredible flexibility for the production line and feature a fully encapsulated design, compact footprint and ultra-short cycle times with a high degree of repeatability. The robots also can be modified for sensitive environments to deliver hygienic and safe solutions for the food, medical and pharmaceutical markets.
"When used in combination with our new 2019 Stäubli Robotics Suite software, the TS2 generates advanced automation solutions for digitally networked production," said Schmitt.
The TS2 SCARA robots can be equipped with an integrated tool changer to significantly broaden their capabilities. At Automate, Stäubli Fluid Connectors will showcase its flexible tool change systems as well as a new online, automated ordering system that makes it easier than ever to select the right solution. MPS Complete, MPS Modular and MPS Customized cover a broad spectrum of production tasks and offer three different options for manufacturers to choose the optimal tool change system to suit their needs.
Also making its North American debut at Automate will be Stäubli's HelMo mobile robot system, which is capable of navigating with complete autonomy by continuously monitoring its environment with three integrated laser scanners. This Automated Guided Vehicle (AGV) features a Stäubli six-axis TX2-90L collaborative robot, which allows HelMo to work alongside employees at any stage of the process. Stäubli Electrical Connectors, one of the world's leading manufacturers of electrical connectors for all industrial sectors, has been effectively utilizing HelMo in its own factory production to handle spikes in demand and to offset unforeseen absences among its human workforce.
At Automate, Stäubli Electrical Connectors will present new connectors for welding applications as an innovative solution for robot cabling. RobiFix-MINI, which supports welding technologies up to 10 kHz, is compact and lightweight, making it ideal for intricate applications. The modular CombiTac system permits maximum flexibility in the creation of application-specific interfaces. Stäubli also will demonstrate the many uses for its Multi Coupling System (MCS), which offers manufacturers a quick, safe and simultaneous connection of all services including pneumatic, liquid, gases, hydraulic and electric.
Visit Stäubli at Automate (booth #7150) to learn more about their smart production line, or visit www.staubli.us for more information.
About Stäubli North America
Stäubli North America has over 200 employees supporting Connectors, Robotics and Textiles customers. The company's North American headquarters is located in Duncan, S.C., and the sales force is strategically placed on the West Coast, Canada, Mexico and elsewhere thoughtout the continent.
Stäubli is a leading manufacturer of textile machinery, quick release couplings and robotics systems. With a workforce of over 5,000 employees Stäubli is present in 29 countries supported by a comprehensive distribution network in 50 countries worldwide.
Featured Product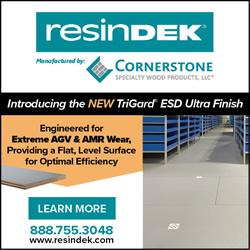 To maximize the productivity of an autonomous mobile robot (AMR) or automatic guided vehicle (AGV) deployment, it's critical to create the optimal environment that allows the vehicles to perform at their peak. For that reason, Cornerstone Specialty Wood Products, LLC® (www.resindek.com) created the TriGard® ESD Ultra finish for its ResinDek® engineered flooring panels. The TriGard ESD Ultra finish is ideal for high-traffic robotic applications characterized by highly repetitive movement patterns and defined travel paths.