At Automate 2019, the collaborative robot pioneer showcases new cobot-powered solutions for machine tending, packaging, assembly, and processing. The new applications debunk myths on what cobots can handle while also addressing industries experiencing hiring issues.
When U.S. manufacturers were asked to describe their primary business challenge, it wasn't the increase of raw materials cost, trade uncertainties, or rising health insurance expenses that topped their lists. Close to 70 percent of manufacturers in the National Association of Manufacturers' 2018 fourth-quarter outlook survey responded that attracting and retaining a quality workforce was their number one concern while the Society of Manufacturing Engineers reported that 89 percent of manufacturers have difficulty finding workers. The labor shortage is especially prevalent in jobs with many repetitive and ergonomically unfavorable tasks. "These are jobs that we like to refer to as the '3D jobs' - the Dirty, the Dull and the Dangerous," says Stuart Shepherd, Regional Sales Director of Universal Robots' Americas Region. "Collaborative robots are now increasingly handling these types of tasks in manufacturing settings. Our booth at Automate will showcase how we work with our rapidly expanding partner network to develop solutions tailored to address the industries and applications hardest hit by labor shortages."

"Collaborative robots excel at repetitive machine tending, and we're constantly optimizing solutions for this important task"
Universal Robots' booth #7154 at Automate 2019, the largest automation solutions event in North America held in Chicago April 8-11, features four different application clusters for machine tending, packaging, assembly and processing. "We chose to focus on these applications as they are currently experiencing a significant demand for cobot automation," says Shepherd. "These are also tasks where our cobots consistently deliver ROI of less than a year, often paying themselves back in a few months as cobots typically deploy up to 50 percent faster than traditional automation."
Conveyors and 7th axis solutions now join UR+ platform
Automate 2019 is the U.S. launchpad for several new UR+ products. UR+ is a platform that connects UR cobot users to an ecosystem of partners providing UR-certified, ready-to-use cobot accessories such as grippers, vision systems and software. Debuting in the packaging application area as UR+ products are Dorner's 2200 Series Conveyor and SKF Motion Technologies' LIFTKIT.
The Dorner conveyors are designed to be the infeed and discharge to Universal Robots and feature the first plug-and-play conveyor-tracking solution for collaborative robots. The control software is integrated directly on the UR cobot's teach pendant and enables the cobots to pick items off the conveyor on the fly. This will be showcased by two UR5e cobots equipped with UR+ end-of-arm-tooling; PIAB's piCOBOT and OnRobot's RG2 Gripper. The LIFTKIT is a vertical positioning system, adding a 7th axis to the UR10e cobot that will be palletizing with the Schmalz FXB vacuum gripper. The liftkit comes ready to install including a telescopic pillar, controller, and UR+ software plugin.
"Palletizing with cobots is a task where we see one of the most significant ergonomic gains in the work environment," says Shepherd. "Alleviating workers from having to repeatedly bend over and perform heavy lifts is an immediate winner. Eliminating or reducing carpal tunnel issues in assembly applications is another low-hanging fruit," he says, highlighting the three different screw-driving applications at UR's assembly cluster at the show.
Dispelling cobot myths
The screw-driving applications cover the full range of UR cobot capabilities, from the UR3e table-top cobot assembling PCB boards, UR5e cobots equipped with Robotiq's 2F-140 grippers performing screw insertion in electrical cabinets, to the UR10e utilizing an Atlas Copco Nutrunner to install bolts into a six-cylinder engine block provided by an active UR customer. "This application involves high-torque screw-driving and will surprise attendees with the perception that cobots are light-duty," says the UR sales director. "Many won't believe that the cobot can handle the force back exerted during actuation, so we look forward to proving them wrong."
Another myth UR is seeking to dispel is the notion that cobots are not suited for processing applications such as spraying, polishing, dispensing, and sanding. "Process automation is not what cobots have been traditionally known to handle, but we're starting to see applications deploying quickly in these verticals," says Shepherd, emphasizing how UR+ products for this application cluster are furthering deployments. A recent example is Dynabrade's robotic sanders that come in a UR+ kit including vacuum-ready pneumatic sanders, robot mount, and a solenoid enabling robotic operation. At Automate, the sanders will be shown in a polishing application with a UR10e.
The new e-Series line of cobots go to work
The processing applications are supported by the new built-in, tool-centric Force/Torque sensor now available in Universal Robots new e-Series line of cobots that launched last year. The sensor enables the new UR cobots to take on applications requiring force control right out of the box, such as assembly, sanding, buffing, polishing, and deburring where force feedback is paramount in order to obtain uniform results and repeatability. Another key feature in the new e-Series is the Process Motion functionality in the software that enables the UR cobot to process the part keeping the same TCP speed during operations, a feature essential to most automated process tasks. This will be demonstrated by an inverted UR3e in a dispensing application.
Whereas processing is a new application area for cobots, machine tending has long been the bread and butter for collaborative robots. "Having an expensive machine sit idle, missing out on orders due to lack of staffing, is every manufacturer's nightmare," says Shepherd. "Collaborative robots excel at repetitive machine tending, and we're constantly optimizing solutions for this important task," he says mentioning the new dual-tending application at the show that features a single UR5e cobot tending two CNC machines in the same cycle. To further streamline spindle uptime, the cobot is equipped with Robotiq's UR+ certified double HAND-E gripper that can remove a part and insert a new part in the same handling move.
The rapidly expanding UR+ platform now includes more than 140 certified UR+ products with 400+ companies in the commercial developer program. In addition to the four application clusters, the UR booth also includes a 'play pen' area where attendees can walk right up and interact with the cobots that will be equipped with end-of-arm-tooling from UR+ partners including ATI Industrial Automation, SCHUNK, Zimmer Group, PhD Inc., and Soft Robotics.
To further the discussion on how cobots can address labor shortages, Universal Robots recently published the whitepaper "CRISIS in Manufacturing - Leveraging New Technologies to Address the Labor Shortage." Download it here: urrobots.com/Labor
Download photos and videos of Universal Robots' Automate 2019 booth here: urrobots.com/Automate2019
About Universal Robots
Universal Robots was founded in 2005 to make robot technology accessible to all by developing small, user-friendly, reasonably priced, flexible industrial robots that are safe to work with. Since the first collaborative robot (cobot) was launched in 2008, the company has experienced considerable growth with the user-friendly cobot now sold worldwide. The company, which is a part of Teradyne Inc., is headquartered in Odense, Denmark, and has subsidiaries and regional offices in the United States, Germany, France, Spain, Italy, Czech Republic, Poland, Turkey, China, India, Singapore, Japan, South Korea, Taiwan and Mexico. In 2018, Universal Robots had a revenue of USD 234 million. For more information, please visit www.universal-robots.com or read our blog at blog.universal-robots.com.
Featured Product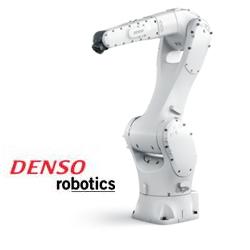 The new VMB series represent some of the newest members to our 6-axis family of robots. These high-performance, versatile units offer a longer arm reach and a higher load capacity than traditional models which make VMB an excellent solution for palletizing, packaging, and material handling. New features include greater air piping, valve and signal line options, as well as new programming options with state-of-the-art functions using our new WINCAPS Plus software. VMB offers an IP67 protection grade along with meeting ISO Class 5, which makes them suitable for electric parts, food manufacturing processes, and pharmaceutical and medical devices. With the addition of the new VMB large robots, all manufacturing processes can now be automated by DENSO Robotics.