York, Pa. - Rich Freeh, President and CEO of RG Group, headquartered in York, PA, announced the agreement with a global leader in collaborative robots, Doosan Robotics, to be the first to integrate their collaborative robot lines in the United States, specifically throughout the Mid-Atlantic states.
Doosan Robotics offers COBOTs that can be useful in different industries and processes ranging from assembly and inspection to gluing and packaging. Armed with the world's most diversified lineup of collaborative robots that boast high-performance torque sensors and the industry leading collision detection technology, Doosan Robotics aims to become a leading player in the world's COBOT market, which is expected to grow exponentially in the era of the fourth Industrial Revolution.

Rich Freeh, President and CEO of RG Group, commented, "It's not often we have the opportunity to partner with a premier global brand and launch the newest and best technology in collaborative robotics. We are honored to be the Mid-Atlantic partner for the Doosan collaborative robotic product offering. The growth in the collaborative space is amazing and we have an opportunity to aggressively grow our market share with Doosan as a vendor partner."
Patrick Gross, VP of Business Development for Robotics and Flexible Outsourced Manufacturing said, "We are extremely excited about our partnership with Doosan. While our companies reside on opposite sides of the world, our cultures are quite similar. Both companies emphasize integrity, dedication to our people, dedication to our customers and emphasis on world class technology and innovation."
"After in-depth analysis of Doosan's collaborative robotic offering we have decided it's the right move for our company. It's truly an honor to be Doosan's first partner in the United States. I look forward to many years of mutual success between both organizations."
About RG Group: RG Group, a group of distribution and manufacturing companies has been providing leadership in the design and delivery of innovative motion control and fluid handling products and solutions for over 60 years. RG Group operates under a very simple core concept: "We Keep Business in Motion". The company goal is to provide its customers with a sustainable competitive advantage through the creative application of technology in the automation, hydraulic, pneumatic, electromechanical and process markets. RG Group's headquarters is located in York, PA, with stores, branches and distribution service areas on the East Coast including PA, NY, NJ, DE, MD, WV, VA, ME, VT, NH, MA, OH, RI and CT.
For additional information, visit www.rg-group.com or contact info@rg-group.com.
Featured Product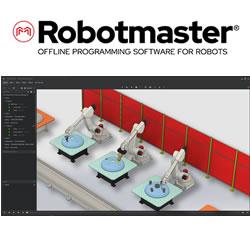 Robotmaster delivers unmatched, full-function off-line programming capability for robots - easy programming of precise robot motion control and quick generation of path trajectories of any size, with minimal programmer intervention. Our strong background in CAD/CAM (Computer Aided Manufacturing) software has enabled us to bring a revolutionary approach to programming industrial robots.