Four of Canada's fastest growing robotics companies will be there to represent the nation's rise as a global leader in innovation and robotics technology as the world adapts for Industry 4.0.
Montreal, May 16, 2019: The International Conference on Robotics and Automation (ICRA) 2019 will be held May 20-24 in Montreal (Quebec), Canada, renowned as one of the world's innovation hubs.

Four of Canada's fastest growing robotics companies will be there to represent the nation's rise as a global leader in innovation and robotics technology as the world adapts for Industry 4.0.
Kinova, headquartered in Boisbriand, Quebec, will be demonstrating their robotic arms at Booth 611, showcasing the adaptability of their open software and modular hardware for research and industry applications. Kinova partners with over 500 research organizations in more than 40 countries to advance human-robot collaboration.
Robotiq, a leading provider of tools and software for the collaborative robotics (cobots) market, will be showcasing their 2F-85 Adaptive Gripper at Booth 519. Robotiq Adaptive Grippers are designed to work perfectly with collaborative robots for a fast, easy Plug + Play integration. Headquartered in Quebec City, Canada, Robotiq aims to lower the barriers to entry for industrial automation and allow companies to automate in areas considered too complex or costly.
Element AI, headquartered in Montreal and delivering AI products at scale to help people work smarter, will be present at booth #616 to demonstrate its latest work in applied AI research and robotics via a demo on visual anomaly detection. This activity is an extension of the company's research in robotics, focusing on tackling tough, multidisciplinary challenges where AI and engineering intersect.
Clearpath Robotics, headquartered in Waterloo, Ontario, will be bringing their fleet of robots and presenting some exciting new demos at Booth 606. For the first time, they will be hosting an outdoor demo of their new navigation software packages, including Visual Teach & Repeat, GPS Waypoint Navigation and Teleoperation.
Helping to position Canada as one of the most innovative and competitive countries in the global economy, the Government of Canada officially released the Building a Nation of Innovators report last February, which portrays a new approach to innovation policy in Canada. This plan will aim to develop a culture of innovation, stimulate growth and create jobs.
###
About Kinova
Kinova is a global leader in innovation robotics. Founded in 2006 in Boisbriand, Quebec, Canada, Kinova's mission was initially to empower individuals with upper-body limitations through assistive robotics. Over a decade later, the company has evolved its solutions and product suite to service new markets —helping researchers, medical professionals, governments, businesses and educational institutions achieve their innovation goals through strategic
partnerships and collaborative efforts.
About Robotiq
At Robotiq, we free human hands from repetitive tasks. Our tools and know-how simplify collaborative robot applications so that factories can start production faster. Robotiq works with a global network of robotics experts supporting their local manufacturers. https://robotiq.com/
About ElementAI
Element AI delivers AI software products that augment decisions to make businesses safer, stronger, and more agile. Element AI is headquartered in Canada with offices in Montréal, Toronto, London, Singapore, and Seoul. Element AI is funded by leading investors including BDC Capital, Data Collective, Fidelity Investments Canada, Hanwha Investment, Intel Capital, Microsoft Ventures, National Bank, NVIDIA GPU Ventures, Real Ventures, and Tencent. http://www.elementai.com
About Clearpath Robotics
Headquartered in Waterloo, Ontario, Clearpath Robotics is a global leader in unmanned vehicle robotics for research and development, and provides hardware, software, and services to enable self-driving vehicle development, deployment, and operation. Clearpath works with over 500 of the world's most innovative brands in over 40 countries, serving markets that span industrial materials handling, mining, military, agriculture, aerospace, and academia.
Featured Product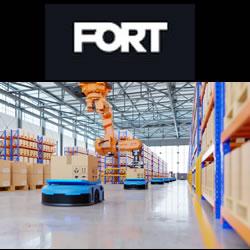 Machine safety and security are two critical components of any industrial operation. Our latest video explores this question and provides insights into how security measures can enhance machine safety. Nivedita Ojha, VP of Product at FORT, breaks down the key considerations when it comes to securing your machines and keeping your workers safe, explaining why there is no safety without security.