Innovative LORD Technology Provides Advanced Navigation for All-Terrain Autonomous Operation
CARY, N.C. — LORD Corporation — a global leader in sensing systems, and Clearpath Robotics, a global leader in mobile robotic platforms, have partnered to bring industry-leading inertial sensors to the Clearpath research robot platform. For precise navigation in applications such as 3D mapping in difficult terrain, LORD inertial sensors enhance the autonomous capabilities of Clearpath's robots.
"The partnership between LORD and Clearpath gives users a full array of state-of-the-art inertial sensors available for direct integration on Clearpath platforms or from the Clearpath Components Store," said Jim Toscano, Senior Business Development Manager, LORD Sensing. "Assembling a highly capable autonomous robot has never been easier."
LORD designs and manufactures a full-feature inertial sensor product line with a common protocol and advanced software - integrating the best-in-class low noise, low drift gyros and accelerometers. Every unit is fully calibrated and temperature compensated, resulting in superior real-world performance under conditions of temperature variation, shock, and vibration. Clearpath Robotics offers LORD inertial sensors to academic and corporate research organizations on its mobile robots for survey and inspection, oil and gas, agriculture, materials handling and other applications. LORD inertial sensors provide dynamic position and orientation information to determine robot heading, as well as roll and pitch accuracy.
"We've recommended and used LORD Sensing, MicroStrain sensors for many years, so this partnership is a perfect fit," said Julian Ware, General Manager, Clearpath Robotics. "Many of our customers develop their own navigation solutions, and having an accurate, reliable inertial measurement unit (IMU) is essential. The LORD Sensing solutions are the best options for mobile robotics development."
Clearpath provides value-added services for LORD with wide-ranging expertise in integrating sensors for situational awareness and autonomous navigation and is a leader in the Robot Operating System (ROS) community. By partnering, the combined effort will result in robots that can be easily and flexibly configured to accurately navigate and perform inspection, mapping, localization and other tasks in challenging terrains and conditions.
More information about the products featured in this partnership can be found on the Clearpath Robotics and LORD Sensing, MicroStrain websites. For an interactive experience highlighting LORD innovations and solutions around the world, visit our Innovating Together webpage.
ABOUT LORD CORPORATION:
LORD Corporation is a diversified technology and manufacturing company developing highly reliable adhesives, coatings, motion management devices, and sensing technologies that significantly reduce risk and improve product performance. For 95 years, LORD has worked in collaboration with our customers to provide innovative oil and gas, aerospace, defense, automotive and industrial solutions. With world headquarters in Cary, N.C., LORD has approximately 3,100 employees in 26 countries and operates 19 manufacturing facilities and 10 R&D centers worldwide. LORD actively promotes STEM education and many other community engagement initiatives. For more information, visit LORD.com.
Featured Product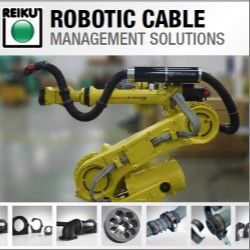 REIKU's Cable Saver™ Solution eliminates downtime, loss of revenue, expensive cable and hose replacement costs, maintenance labor costs. It's available in three sizes 36, 52 and 70 mm. All of the robots cables and hoses are protected when routed through the Cable Saver™ corrugated tubing.The Cable Saver™ uses a spring retraction system housed inside the Energy Tube™ to keep this service loop out of harms way in safe location at the rear of the Robot when not required. The Cable Saver™ is a COMPLETE solution for any make or model of robot. It installs quickly-on either side of the robot and has been tested to resist over 15 million repetitive cycles. REIKU is committed to providing the most modular, effective options for ensuring your robotic components operate without downtime due to cable management. www.CableSaver.com