Combining real-time sensor networking with advanced driver assistance AI software increases battlefield awareness for military ground vehicle crew
Pleora Technologies and Mission Control Space Services today announced a strategic partnership that combines their respective expertise in real-time sensor networking and artificial intelligence (AI) for robotic control and automation to enable advanced driver assistance in local situational awareness (LSA) and C4ISR military imaging systems.

"Consulting with end-users throughout our product design, vehicle crew consistently highlight how uncharted, quickly changing terrain poses safety concerns and hinders mission planning," said Harry Page, President, Pleora. "With our modular and scalable RuggedCONNECT Smart Video Switcher platform and plug-in Vehicle/Terrain AI Safety System from Mission Control, designers can more easily integrate advanced capabilities that help reduce accidents and heighten battlefield intelligence."
Pleora's RuggedCONNECT platform converts sensor data from multiple sources into a standardized feed that is transmitted over a low latency, multicast Gigabit Ethernet (GigE) network to endpoints. Manufacturers can design straightforward camera-to-display systems and cost-effectively evolve to fully networked architectures integrating different sensor and display types, switching, processing, and recording units. With all devices connected to a common infrastructure, vehicle crew can view information they need on a single display and know immediately if something has changed in their environment.
Combining the high-performance networking of RuggedCONNECT with the powerful GPU resources of the NVIDIA Jetson TX2i, designers can easily add decision-support capabilities to reduce cognitive burden and increase mission effectiveness. The Vehicle/Terrain AI Safety System technology from Mission Control, available as a solution plug-in for RuggedCONNECT, uses images captured by existing cameras on a vehicle to provide real-time terrain data that visually alerts the driver on changing soil conditions, gradients, and obstacles. The solution is a spin-off from Mission Control's Autonomous Soil Assessment System technology developed with the support of the Canadian Space Agency.
"Our Vehicle/Terrain AI Safety System builds on operation and automation expertise developed for space robotics systems to help support advanced warning and effective mission planning in local situational awareness and C4ISR systems," said Dr. Michele Faragalli, CTO of Mission Control. "Much like operators of robots on the Moon or Mars, military vehicle drivers often have limited information about the terrain in front of their wheels. Our Vehicle/Terrain AI Safety System provides real-time terrain data, even in very rough, low-visibility, and changing environments, to help increase safety and intelligence while lowering costs for defense departments."
Pleora and Mission Control will be demonstrating the integration of Pleora's RuggedCONNECT Smart Video Switcher and Mission Control's Vehicle/Terrain AI Safety System at DSEI (London, UK September 10-13, 2019, stand N3-504).
Featured Product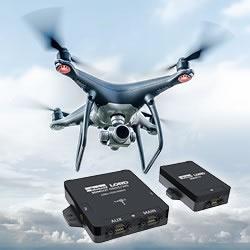 The new complete inertial navigation solution comes with GNSS/INS 3DMGQ7 sensor, 3DMRTK correction modem and real time SensorCloud RTK correction network. The sensor comes with Dual antenna GNSS, tactical grade IMU with centimeter-level accuracy with RTK. Low profile and light weight at 78 grams, this sensor is The sensor is optimized for size and weight in Unmanned Ground Vehicles, mobile robots and autonomous vehicles. The network interface 3DMRTK modem is seamlessly integrated into the 3DMGQ7 sensor supports industry-standard NMEA and RTCM 3.1 protocols. The network RTK support comes with cellular data plan. The SensorCloud RTK is a cloud-based RTK correction system with private encrypted data stream. Check out our G Series and C Series OEM products.