AGV/AMR and Picking System are going to have more than 25% market share in warehouse automation market by 2025.
One of the biggest challenges facing the logistics industry today is labour availability. It's not easy for companies around the world to find enough high-quality employees to move goods from suppliers to customers. Two competing factors are making this especially difficult: The first is an increasing need for more logistics workers and this is being driven by the e-commerce revolution and its need for more parcel shipments; the second is a decline in the size of the available workforce due to shrinking population levels in the Western world.

This growth directly affects the requirement for logistics labor since online retail typically needs more labor per item sold than traditional brick-and-mortar retail. This is because, instead of moving merchandise to a retail store in bulk, the organization must pick and pack online purchases individually by hand. Freight and parcel handling labor goes up as well since these goods must be shipped as separate parcels to be delivered directly to consumers' homes. Added to this, the average weight of these shipments is increasing as consumers can now order large items such as white goods, building supplies, and even furniture online. For the first time in history, future populations will be smaller than past generations in the mature markets. A recent study by BCG shows that over the next fifteen years Germany alone could see a labor deficit up to 10 million workers.
Download Sample - https://www.thelogisticsiq.com/research/warehouse-automation-market/
Since 1948, the US economy has grown at an average pace of 3% per year. If this trend continues and with the current rate of productivity, over the next thirty years the US will need 35 million more workers than will be available. How will companies fill this labor gap?5 Even today employees are being asked to work additional years and retire later due to staff shortages, but logistics is a difficult occupation for an already aging workforce.
To combat these challenges, the managers of tomorrow's supply chains will need to either continue to raise costs while reducing service or will need to compensate with automation that can support workers and increase productivity. Today's current material handling automation solutions have helped to ease and postpone this challenge but in many cases the solutions are just not flexible enough to cover all of the requirements of a dynamic supply chain.
Research shows that 80% of current warehouses are manually operated with no supporting automation. These warehouses have dealt with demands for increased productivity and throughput by supporting existing workers with good layout design, mobile material handling equipment, and constantly improving IT.
LogisticsIQ™ latest market research study "Warehouse Automation Market By Technology (AGV/AMR, AS/RS, Conveyors, Sortation, Order Picking, Automatic Identification and Data Capture, Palletizing & Depalletizing, Overhead Systems, MRO Services and WMS/WES/WCS), By Industry (E-commerce, General Merchandise, Grocery, Apparel, Food & Beverage, Pharma, 3PL), By Functions (Inbound, Picking, Outbound), By Geography - Global Forecast to 2025", estimates that the global Warehouse Automation Market will grow more than 2x from $13 Billion in 2018 to $27 billion by 2025, at a CAGR of 11.7% between 2019 and 2025.
Read More - https://www.thelogisticsiq.com/contact/
The opposite of the goods-to-picker system would be a mobile robot that drives around traditional warehouse shelves and picks items just like a person would. Several startup companies are currently working on robots that can do just that. IAM Robotics is a small company based in the United States. It is currently developing a mobile robot with an arm on top and a camera system that can navigate an existing warehouse and pick items from shelves and place them into an order tote. The system was first field tested in a pharmaceutical warehouse in New York where it was able to pick test orders from 40 items that it had never seen before. The robot will be tested next in a more general goods warehouse where it will be integrated with a warehouse management system (WMS) for the first time and pick live orders. IAM Robotics hopes to have a commercial version of its system available sometime in 2016.
he company Fetch Robotics is a well-funded startup that is also developing a robot that will drive around a warehouse picking items from shelves. Its primary robot, called Fetch, can extend its torso to reach upper shelves while a small secondary robot, call Freight, helpfully holds the tote that Fetch will pick items into. Each Fetch robot can have several of these smaller Freight robots supporting the picking process. The agile Freight robots quickly move the totes around the warehouse from area to area while the slower Fetch robots can stay in one aisle and focus on picking items. This effectively creates a hybrid of the goods-to-picker approach and the traditional manual picking concept. Fetch Robotics intends to also sell the smaller Freight robots separately; these can be used to help human workers in warehouses containing items that are too complicated for the Fetch robot.
Magazino is a German startup company that develops and builds perception-driven mobile robots for intralogistics. Its latest development is the picking robot TORU. Using 2D and 3D cameras and Magazino's technology, this robot can identify individual objects on a shelf, grasp an item securely, and place it precisely at its destination. TORU works alongside humans, providing just-in-time object delivery to the workbench or shipping station.
There are still technical and cost challenges to overcome before these robots will be ready for widespread use but they have some key advantages over stationary goods-to-picker robots. First of all, the concept is much more scalable. If you have a small distribution center, you may only need one or two mobile robots and you could add robots one at a time as you grow. One can even envisage renting or leasing the robots; the warehouse could first test a few of them during low times and later rent more during busy periods when more help is needed. These robots could work alongside existing workers, picking easy items while the humans pick the more complicated products or focus on solving exceptions. Moving to a new warehouse would be easier since the robots are not bolted to the floor and a market for used robots would develop, reducing investment risk.
Order Picking itself is expected to be more than $3.5B Market by 2025 considering the huge requirement and expectation from e-commerce sector.
Contact Us to get more information - https://www.thelogisticsiq.com/contact/
Featured Product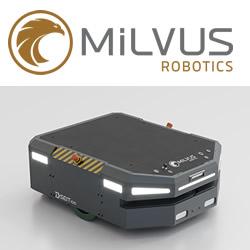 Enhance your material transport capabilities - even in the busiest warehouse or production environments - with SEIT robots. Made by Milvus Robotics, these reliable and safe AMRs efficiently move materials with no human intervention required. They work seamlessly alongside people, forklifts, and other equipment. Requiring no infrastructure, SEIT robots are suitable for a range of manufacturing environments, distribution centers and more.